LifeBasis CDS-100 digital ultrasonic cleaner comes with touch button and 35W transducers, 42,000Hz of ultrasonic sound waves, generous 20 oz (600 ML) capacity perfect size and weight, provide a powerful yet gentle clean for your valuables in minutes, can clean not only dirty jewelry, eyeglasses, watches, rings, necklace,utensils, but also CDs,PCBAs, toothbrush, razor,pens, makeup brush etc.


Why Choose Lifebasis Portable Ultrasonic Jewelry Cleaner?
1. Professional Digital Ultrasonic Cleaner
Generates 42,000 Hz of ultrasonic sound waves, with 35W transducers for a powerful yet gentle clean that won't harm your valuables. Removable power cord, easy to replace water. Transparent lid-window let you watch the cleaning process clearly.
2.Digital Display and Touch Button
Touch button enables super easy and smooth operation. Digital display with 5 preset cleaning cycles (90, 180, 300, 480, & 600 seconds) and auto shut off. You can set a suitable working time freely. 360°all-round cleaning,transparent lid-window allows you watch the cleaning process clearly during cleaning process.
3. Perfect Size and Unique Design
Generous 20 oz (600 ML) capacity adequate to thoroughly clean dirty jewelry, eyeglasses, watches, utensils in minutes, and won't take up much space. Perfect for home use.
Warm Tips: In order to get a better cleaning results, you can soak the jewelries for 4-5 minutes in warm water (40°-50°) with jewelry cleaning solutions before cleaning.
Detachable power socket is convenient to do change the plug.
4. Strong & Durable Machine
Compared with other ultrasonic cleaners on the market, CDS-100 ultrasonic cleaner built-in mute cooling fan help cooling cleaner during working, which can extend the lifespan twice longer than other ultrasonic cleaners on the market, without affecting cleaning effect.
SUS 304 stainless steel tank provides good corrosion resistance, use any ultrasonic detergent / solution with peace. Designed with max water level line inside the tank for guidance.
Package includes washing basket and watch holder to keep items secure.
5. Guarantee
We offer 1 year ultrasonic cleaner satisfaction guarantee. 
Note: 
1. Be sure to fill water into the tank before power on. Do not clean glasses/sunglasses with protective film. Water do not exceed the max level.
2. Do not place the cleaner in a damp environment.
3. PLEASE DON'T put plated items into the tank.
4. The ultrasonic cleaner can not remove the oxide layer.
5. After the ultrasonic has been working continuously for 10 minutes, the machine needs to be rested for 10 minutes to cool down, and the water needs to be changed every half an hour to get a better cleaning effect. After using the machine, it is recommended to unplug the power cord in time.
6. Please do read the user manual before using it. If you are not sure whether ultrasonic cleaner can clean a specific type of jewelry, please consult the jeweler.
CDS-100 Digital Ultrasonic Jewelry Cleaner Details
What Can 
Ultrasonic Jewelry Cleaner Wash ?
Application

For the hobby: Jewellery,watches,coin collections,medals,CDs,tattoo tools ,3d printing modes,etc.

For everyday use: Glasses, razor,comb,cutlery,hearing a-ids, dentures and other everyday items,etc.

Professional: Laboratory glassware,medical equipment, carburettors and parts of weapons,etc.

Guin-ness Stout: Works grand for guin-ness surger cans,a perfect alternative to guin-ness surger unit.
Note: ultrasonic is not suitable for soft jewelry like pearl and hawksbill, coating glass frame and other objects. These items are not hard, so scratches may occur during cleaning.
How To Test If Your Ultrasonic Cleaner Generates Enough Cavitation?
1. Take a clean aluminum foil.
2. Fill up your ultrasonic cleaner with water.
3. Turn on Ultrasonic Cleaner.
4. Dip the foil inside the tank and keep for 3-5mins.
If the ultrasonic cavitation effectively pierces the foil to make many tiny holes and see foil pieces floating on the water, it shows the ultrasonic cleaner is working fine.
How To Clean Different Items Effectively?
1. Cleaning solution-Add cleaning solution will get a better cleaning effect.
To clean the airbrush gun, use boric acid.

To clean bullets, use citric acid.

To clean gold and copper products, use oxalic acid, citric acid.

To clean silver products , use silver washing liquid.

To clean normal watch band, glasses, jewelry, use detergent.
2. Water Temperature-Mostly used at a temperature of about 50–65 °C (122–149 °F), however, in medical applications it is generally accepted that cleaning should be at temperatures below 45 °C (113 °F) to prevent protein coagulation.
3. Time – Depending on how dirty the items are, the time is usually from 1 to 20 minutes. After the cleaning is done, leave your items inside for another 5-10 minutes so that the dirt particles that were knocked off your pieces by the sound waves can fall to the bottom of the tank.
Specification
Tank capacity: 600 ml   maximum: 500 ml
Power supply: 30 w AC 100V   50/60 Hz
                      35 w AC 100-120V   50/60 Hz
                      50 w AC 220-240V   50/60 Hz
Digital Timer Settings: 180s-300s-480s-600s-90s
Frequency: 42,000Hz
Tank Material: Stainless steel SUS304
Unit Size: 20.4*14.0*13.0 cm (8.04*5.52*5.12 inch)
Tank Size: 16.1*8.5*5.0cm (6.34*3.35*1.97 inch)
Net Weight: 0.98KG (2.16 lb)
Lifebasis CDS-100 Ultrasonic Jewelry Cleaner Operation Guide
Ultrasonic Cleaner Buying Tips

Depending on the object to be cleaned, pick up the one you need.
1. Tank size. (depends on size of the item to be cleaned)
2. Frequncy.  (The level of frequency determines the kind of cleaning that is created, to clean extensive dirt and contaminants, use lower frequencies. The lower the frequency, the bigger the bubbles)
4. Application. (jewelry, eyeglasses, razors, watches,dentures, CDs,  cosmetic brush etc. )
5. Voltage standard. (all these ultrasonic cleaner are compatible with Jap, UK, US voltage, no cost of a step down power supply)
Lifebasis Different Model Ultrasonic Cleaner Comparison
 Packing List
1 x Main Unit
1 x Watch Stand
1 x Basket
1 x Power Cord
1 x User Manual 
LifeBasis CDS-100 Ultrasonic Cleaner User Manual
Manuel d'utilisation du nettoyeur à ultrasons LifeBasis CDS-100
LifeBasis CDS-100 Ultraschallreiniger Benutzerhandbuch
Manuale utente del pulitore ad ultrasuoni LifeBasis CDS-100
LifeBasis ポータブル CDS-100 超音波ジュエリークリーナー600MLの取扱説明書
Notice: we will send the power cord with corresponding standard according to the country your provided in shipping address, if you have special requirement for the power cord, kindly leave a note or contact us in time.
US Plug
EU Plug
UK Plug
 AU Plug
Share
View full details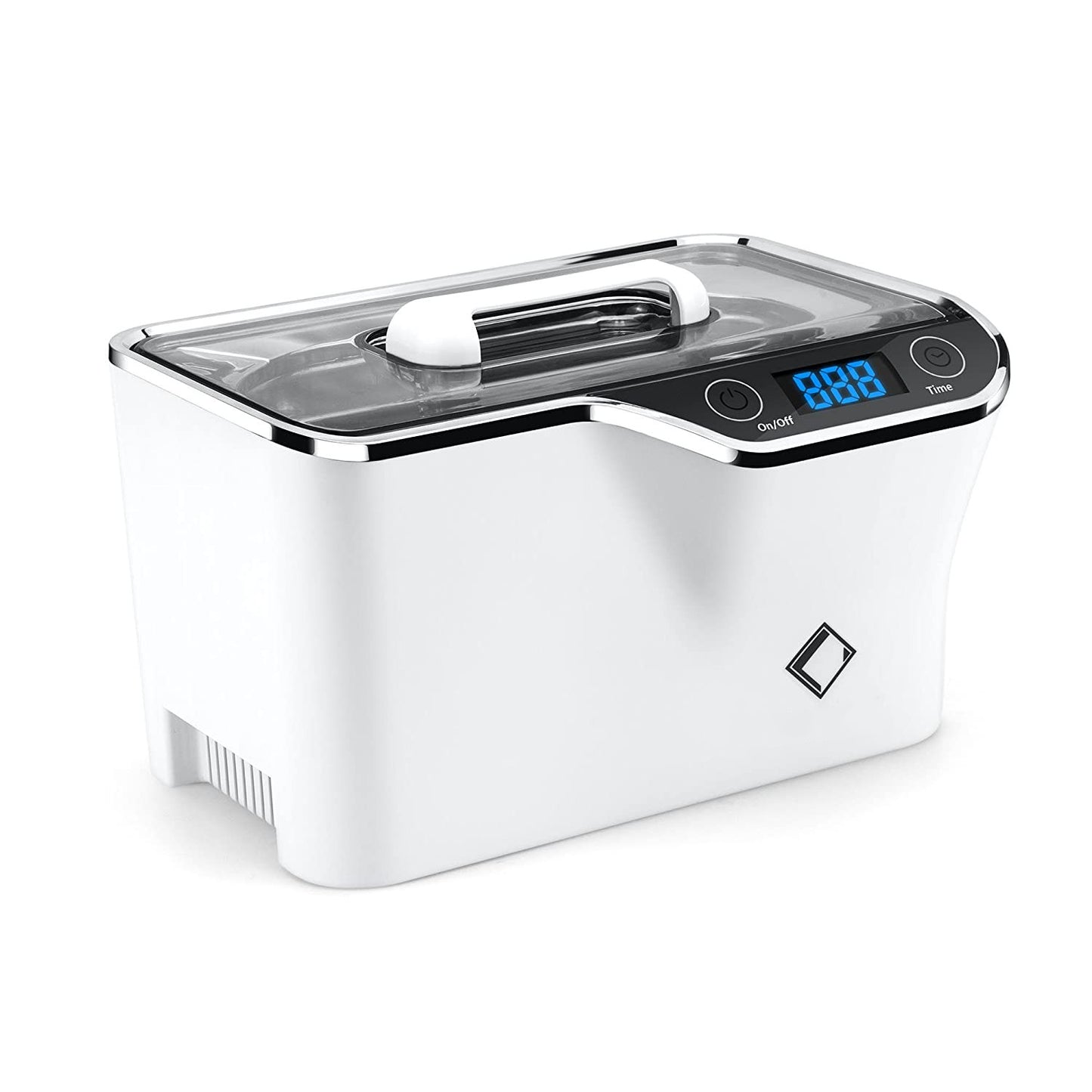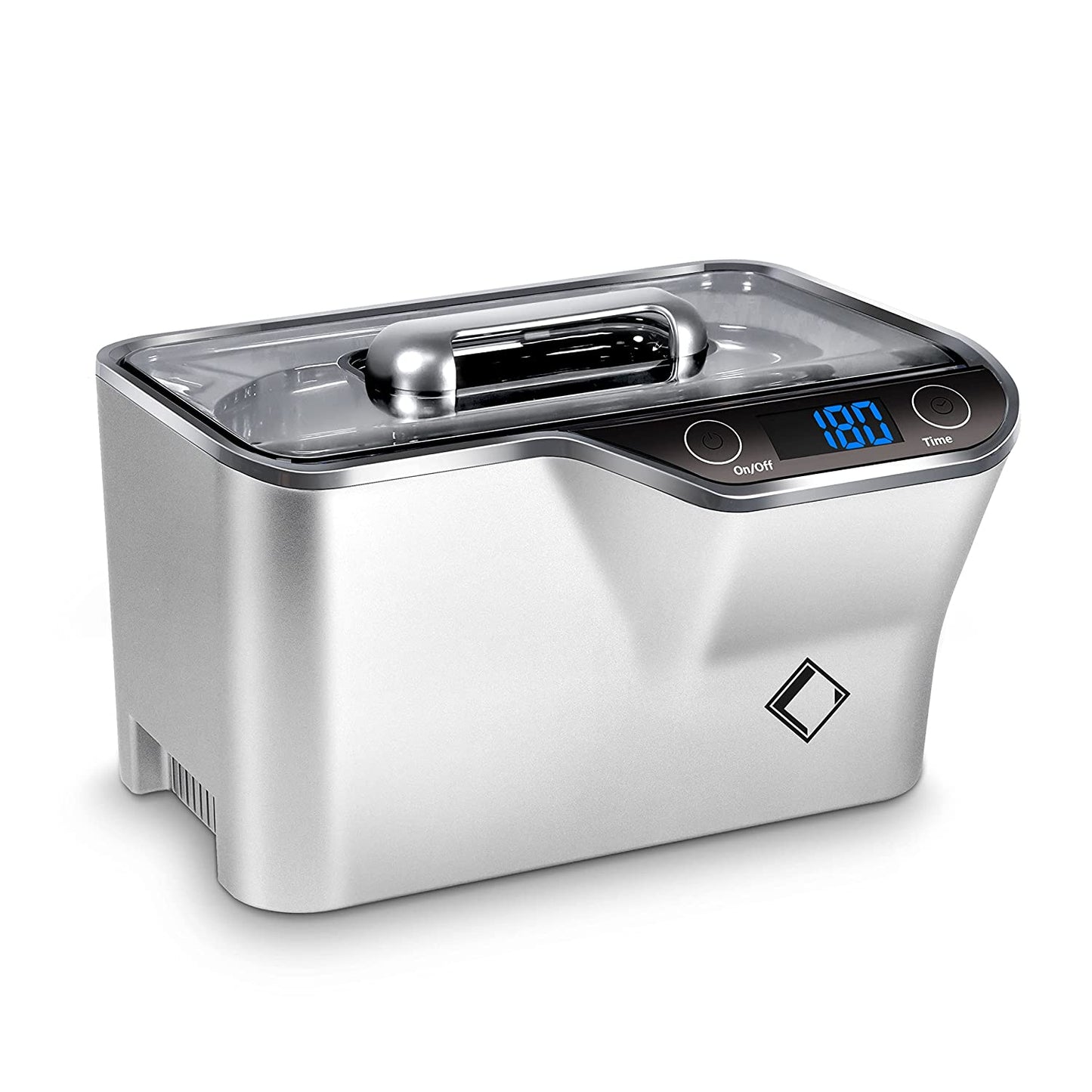 Works great!
If you have jewelry and don't want to pay to get it cleaned- this is for you. It dies a great job, compact, and easy to store away. Recommend!
Good value
It's very easy to use and does a better than average job. I tried it on tarnished antique silver spoons with lots of nooks and crannies. It worked best when I smeared the spoons with a light coat of silver polish before immersion and set the timer for 300. It's can hold 4 teaspoons at a time. No tedious rubbing and polishing - just a quick rinse and dry. Heavily tarnished items still need some hand polishing, however. So this would work best for regular upkeep rather than extreme damage remediation.
Cleans very good!
I bought this for my jewelry and it works super good! Made everything super shiny again and I love that you can clean different stuff in this. If your looking for multiple things to clean and get the job done this is the machine you need.
Cleans well!
Thisis well made and high quality. It doesn't feel cheap at all. It cleans really well too. It didn't realize how dirty my glasses were until I cleaned them with this! My jewelry is so sparkly now! I love it! I want to put everything in there to see how clean it will get. Definitely worth the reasonable price!