Regular price
$89.99 USD
Sale price
$86.99 USD
Unit price
per
Sale
Sold out
LifeBasis CO detector comes with Japanese NEMOTO sensor, high - quality and fast response. Real-time displays carbon monoxide reading, one-button operation, very easy-to-use. High accuracy, audible and visual alarms in three different level,The level and alarm ways can be customized. This CO tester is designed and developed to detect CO gas inside the vehicles, guarantee your safety and you loved ones.
Why Choose LifeBasis Carbon Monoxide Detector?
1.  Wide Application
LifeBasis CO monitor has been specially designed for possible causes of headache, nausea and driver fatigue from exhaust leaks in vehicles, planes, school buses, trucks and fleet vehicles.
2. High Accuracy
CO low level alarm at 9ppm and 25ppm alarms here, EPA, ASHRAE, OSHA, NIOSH CO recommended exposure levels. Accurate data is more worthy of your trust.
3. Quick Alarms
Differ from home CO detectors which only warn carbon monoxide concentration> 70ppm @ 60 - 240 minutes, our carbon alarm warn carbon monoxide concentration> 9ppm @ 60 seconds, it can remind you more quickly so you can evacuate quickly.
4. Easy Operation
This carbon monoxide detector has a small form factor with a stylish metal case and 3M adhesive backing. (weighs only 56.7g). One button operation and can be worked continuously for 12 months with the same battery. Easier to use and more convenient to carry.
5. Advanced Technology
This carbon monoxide monitor with tamper proof design, 100% quality tested in UK to make sure the high quality product for our customers.
LifeBasis CO Detector Features
Compact and light weight,Aluminum alloy frame
One-button designation,easy to operate and using
Real-time display Carbon Monoxide detector readings and Power
High quality Electrochemical sensor,fast response
Monitor and record the CO value,easy to operate
Long lifespan service,easy to replace the button battery
Audible and visual alarms in three different level,The level and alarm ways can be customized
LifeBasis Carbon Monoxide Detector Parameters
Measurement Range: 0~1000 ppm
Accuracy: 1 ppm
Respond Time: 20S(T90)
Buzzer: Sound alarm,Light. 70 dB at 1 meter
Size: 72.5*46.8*14.8mm
Weight: 50.8g
Power source: 2*CR2032
Battery Short Circuit Current: 6mA
Static working state current: < 30uA   
Alarm state current: < 6mA
Working temperature: -10℃-60℃ working humidity: 10%—90%RH
Packing List 
1 x CO Detector
1 x Ball-chain
2 x Battery
1 x User Manual 
Share
View full details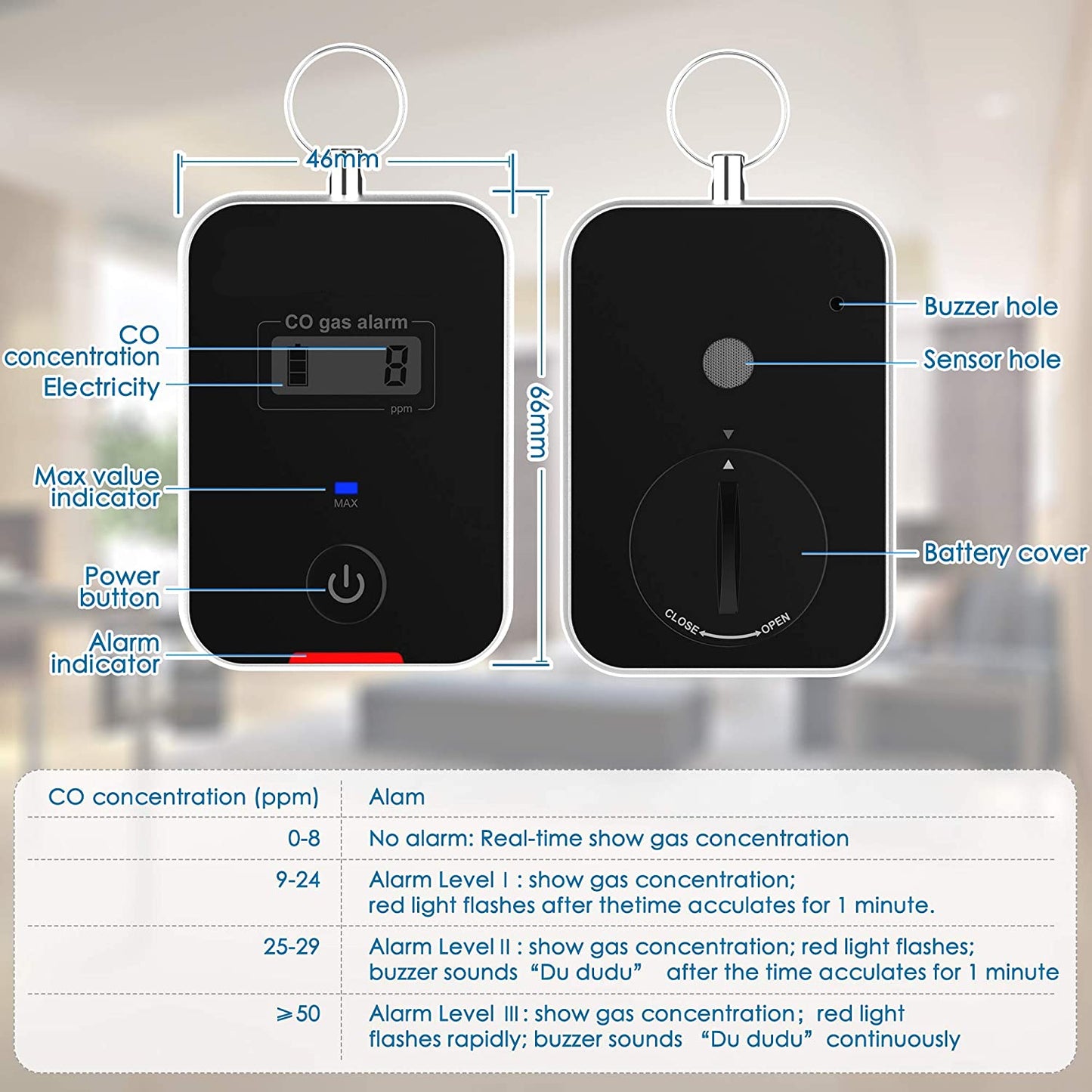 Muy preciso
Funciona muy bien es muy preciso tengo dos aparatos detectores y este detecta antes. Por ponerle una pega el sonido es un poco bajo no creo que llegue a despertarte por la noche.
Accurate detection of Co in the cockpit
Worked as described and I think is a must for an aircraft cockpit. Only negative is the instructions are in German as another reviewer mentioned.
Potential Life Saver
Bought this for the family holiday and so far it has gone off once in the hotel. The reading and alarm sound is clear. It is very fast to respond so much so that as soon as a window opens the level lowers. It is fairy tough. It has been dropped onto hard ground, and it still seems to read correctly when appropriate, dropping immediately when a window is open. It is a must for any car or holiday, It could save your life, in another country where safety standards are not as high as in the UK.