Regular price
$169.99 USD
Sale price
$89.99 USD
Unit price
per
Sale
Sold out
LifeBasis formaldehyde tester is a multifunctional air quality detector which can tests 8 kinds data including formaldehyde, volatile organic compound,  particle matter, air quality index, temperature and humidity at the same time. Built-in advanced fan and accurate sensors which can detect levels of dust particles and air pollution index, real-time testing records and analysis with sound and color alarm, keep your family safer.
LifeBasis Formaldehyde Detector Highlights
1. Multifunctional 
This indoor air quality monitor accurately tests 8 kinds of data including Formaldehyde(HCHO), Volatile Organic Compound(TVOC VOC), Particle Matter(PM1.0/PM2.5/PM10)/Air Quality Index(AQI)/ Temperature(TEMP)/Humidity(HUM), to ensure the health of your family in all domains.
2. Portable & Rechargeable
Spot-check indoor air quality anywhere. Digital air quality meter can help us detect air pollution in home, kitchen, bedroom, office, school, car, hotel, travel, camping, party, etc....especially in which has baby, child and pregnant woman. Built-in a 2000mAh rechargeable battery and packaged with a DC 5V USB cable, the standby time can last 8-12 hours.
3. Advanced Fan & Accurate Sensors
This air pollution monitor has a built-in fan that quickly draws in ambient air for real-time measurements. It incorporates a laser sensor to measure levels of dust particles and a second electrochemical semiconductor sensor to measure the air pollution index. Those readings involve the detection of toluene, harmful chemical substances and pollutants in the air such as smoke, fog, dust, alcohol, glue, paint, ink, etc.
4.  Sound and Color Alarm
Do real-time testing record and analyzed, hazard level with Time Display. If the air quality index exceeds the standard, there will be an alert and the interface color will change. Thereby avoiding potential risks! Detailed information is displayed on a clear 2.8" color LCD display.
5. Application and Warranty
Before using the air quality detection device to test the HCHO and TVOC in the bedroom, living room, and other space, it is better to seal the windows, doors for 24 hours and then test. Please use the device at sufficient power or it will turn on/off. LifeBasis provide 12 months warranty for the air quality detector.
LifeBasis Formaldehyde Detector Air Quality Monitor Specification
Input: 5.0V/1000Ma
Product Weight: 220g
Product Dimension: 162*70*43mm
Battery Capacity: 2000mAh Lithium Battery
Colour: Black
Power Source: Corded Electric, Battery Powered
Voltage: 220V
Detection Range:  PM2.5/PM1.0/PM10: 0 ~ 999ug/ m³, TVOC: 0.000 ~ 9.999mg/m³, HCHO: 0 ~ 1.999mg/m³
Using Environment: 
Atmospheric Pressure: 86Kpa ~ 106Kpa
Charging Temperature: -10℃-45℃

Storage Temperature: -20℃-50℃
LifeBasis 8 in 1 Air Quality Moniter User Manual
Packing List
Air Quality Detector *1
User Manual *1 
USB Cable *1
Share
View full details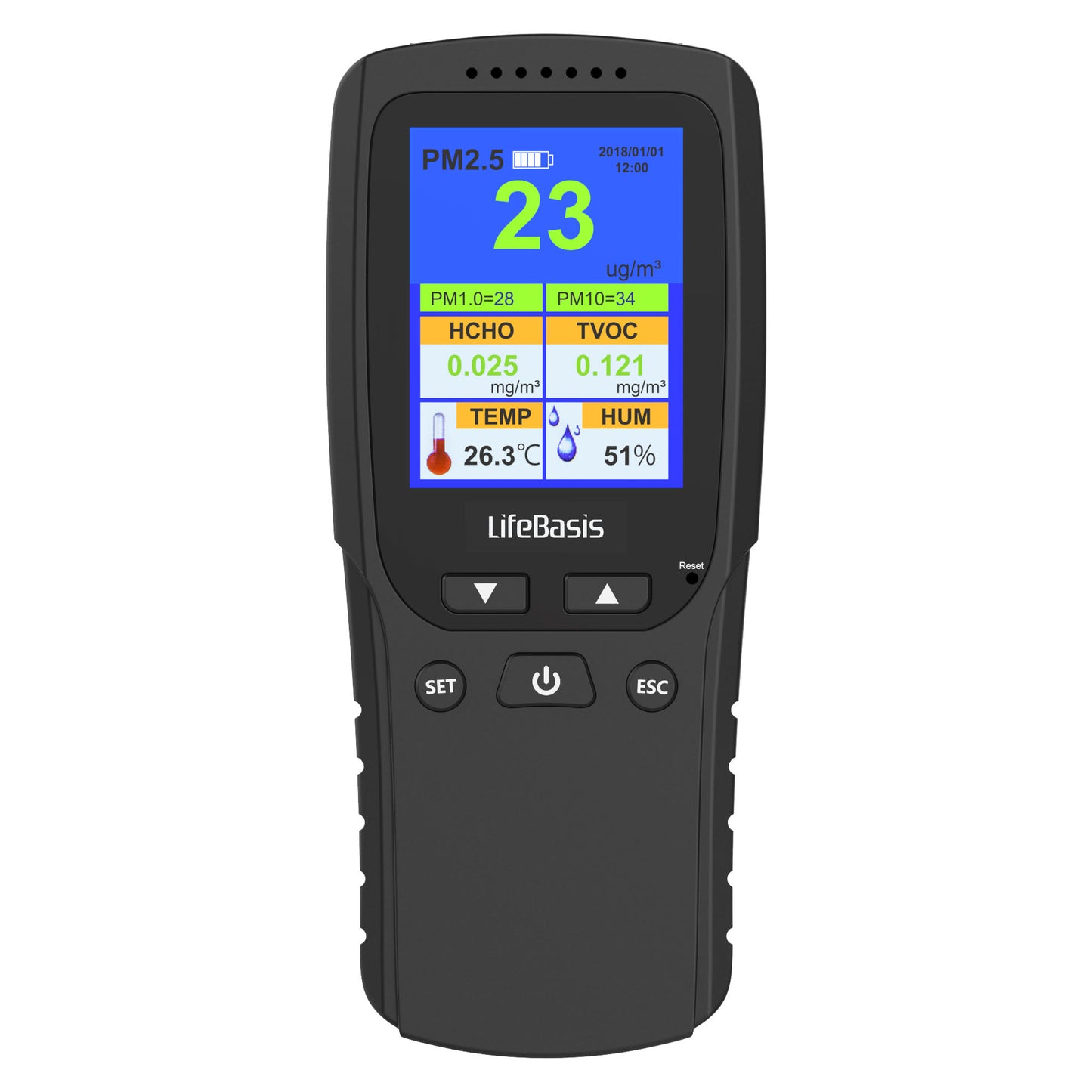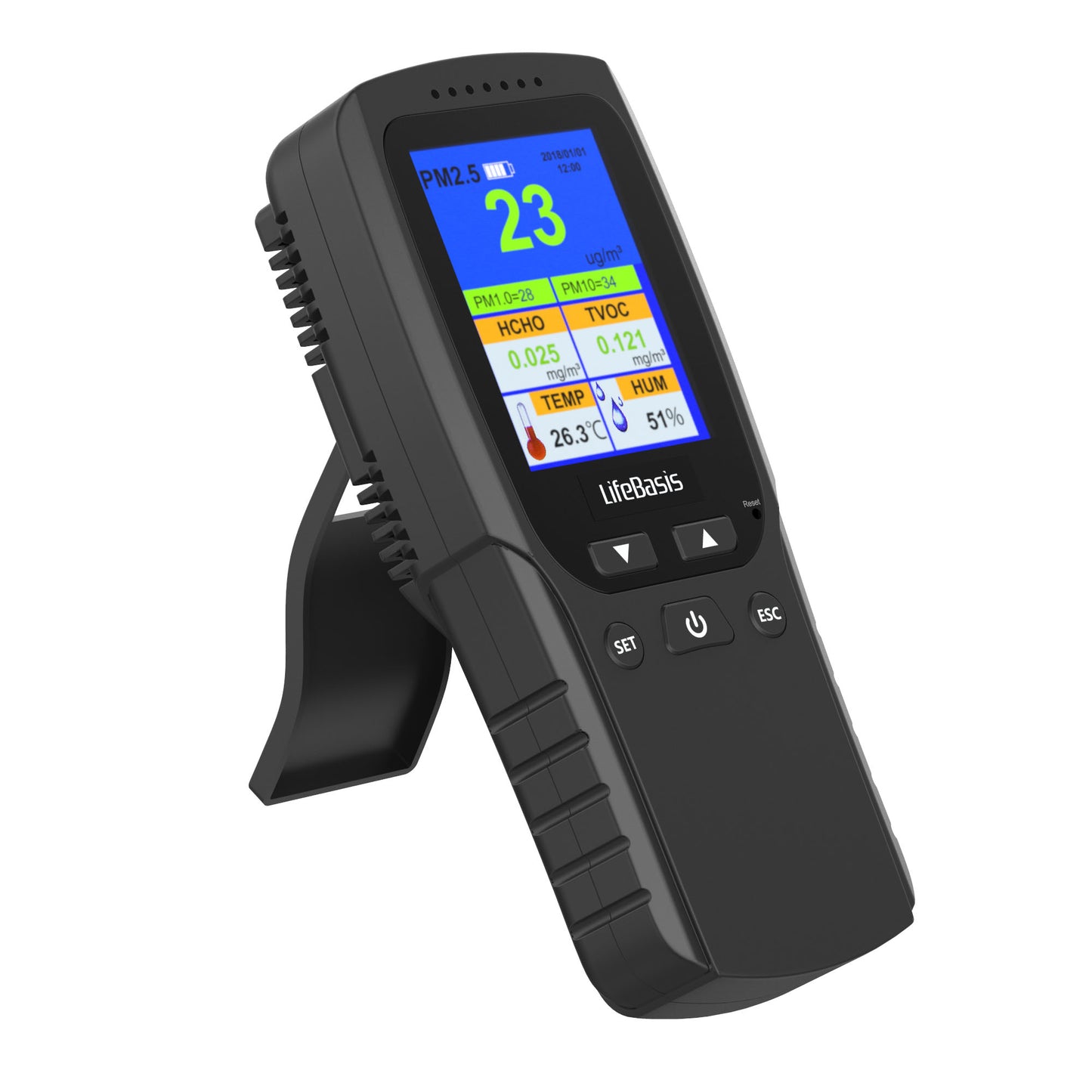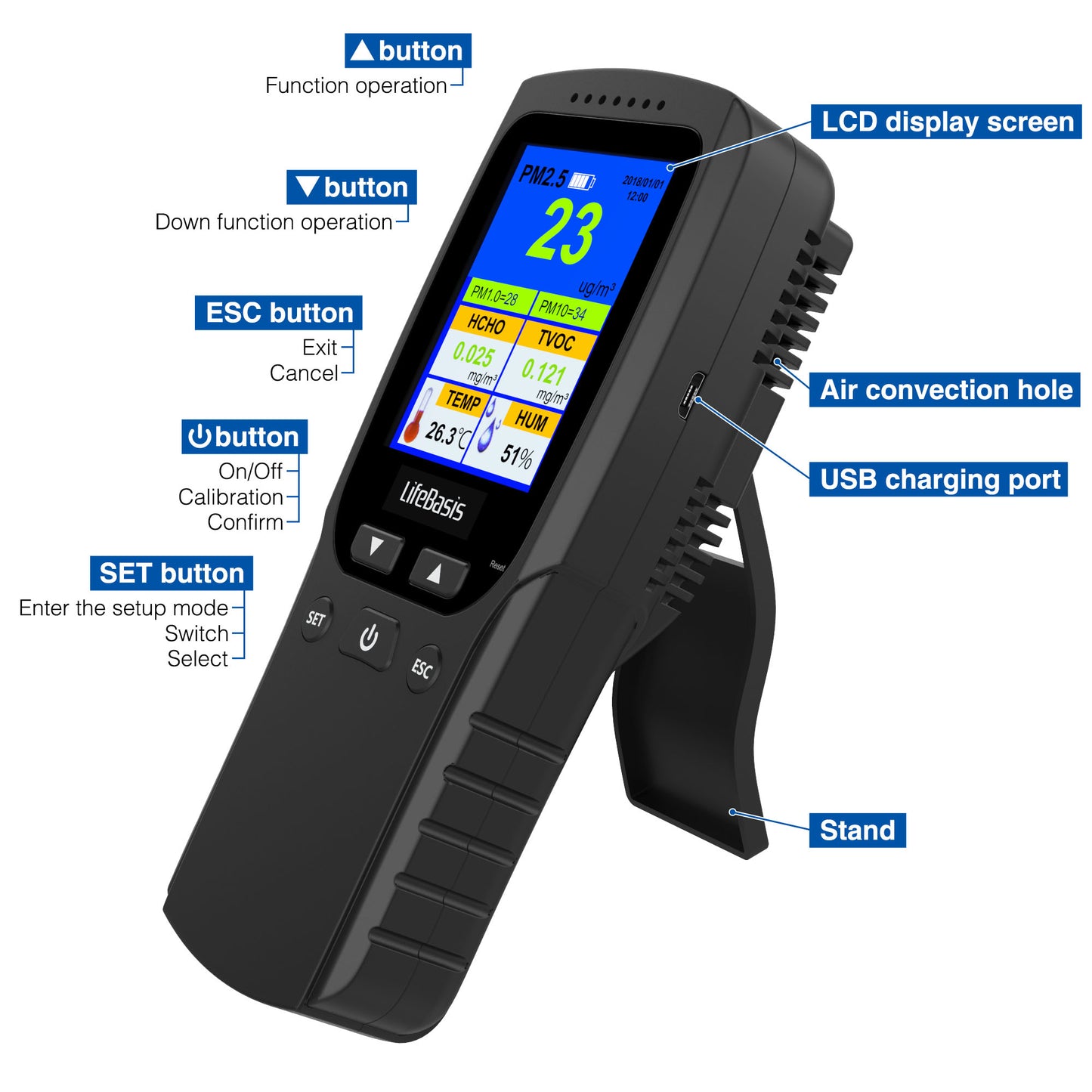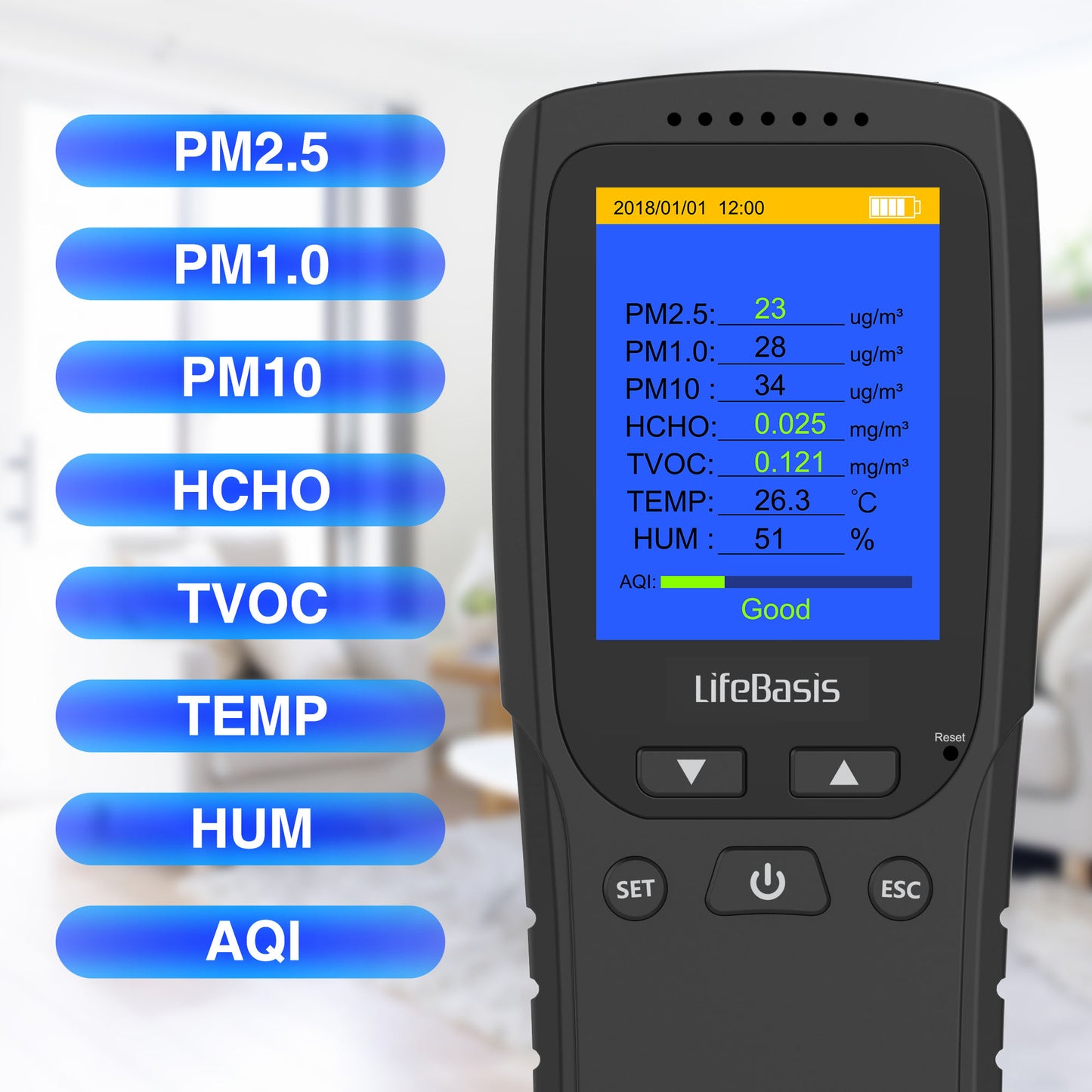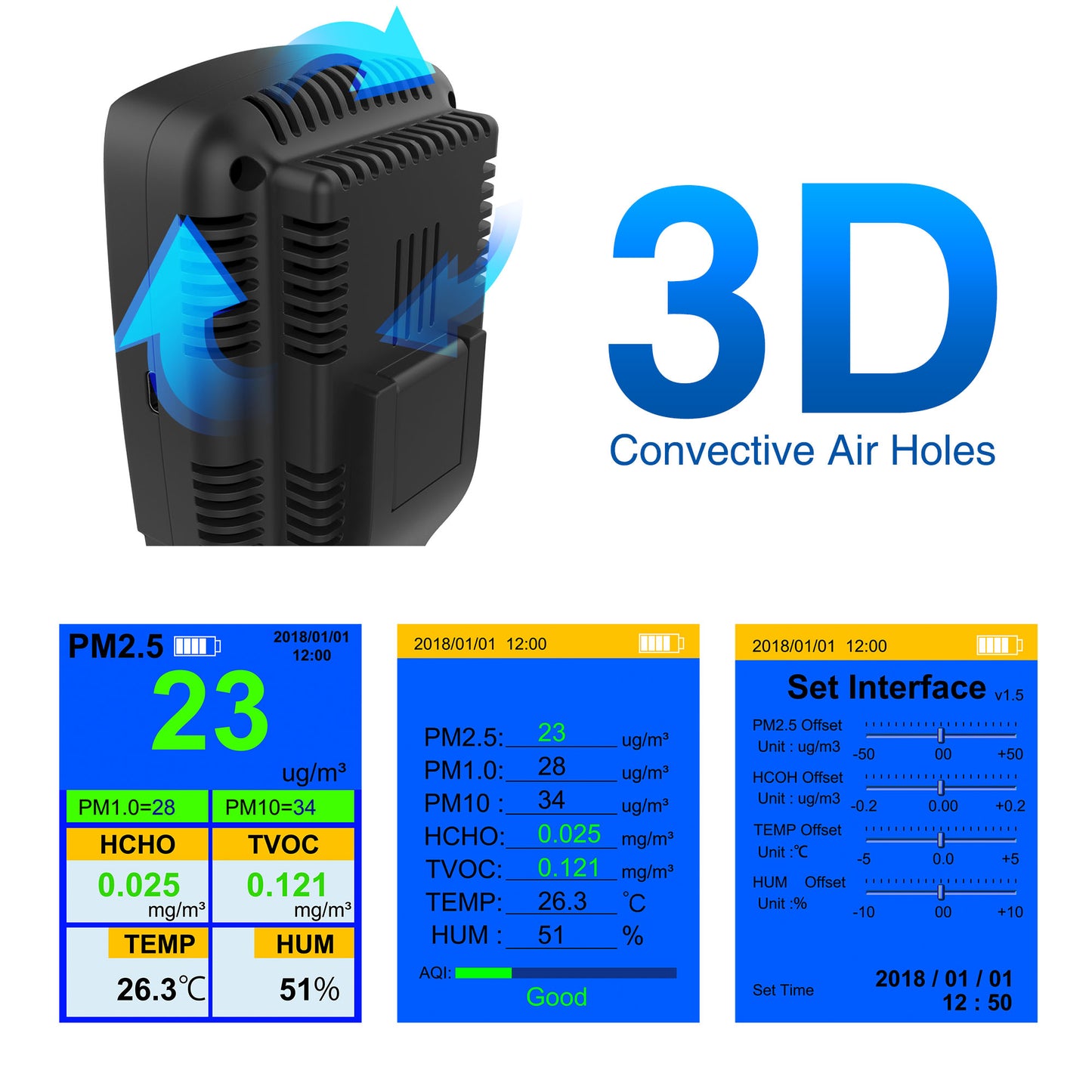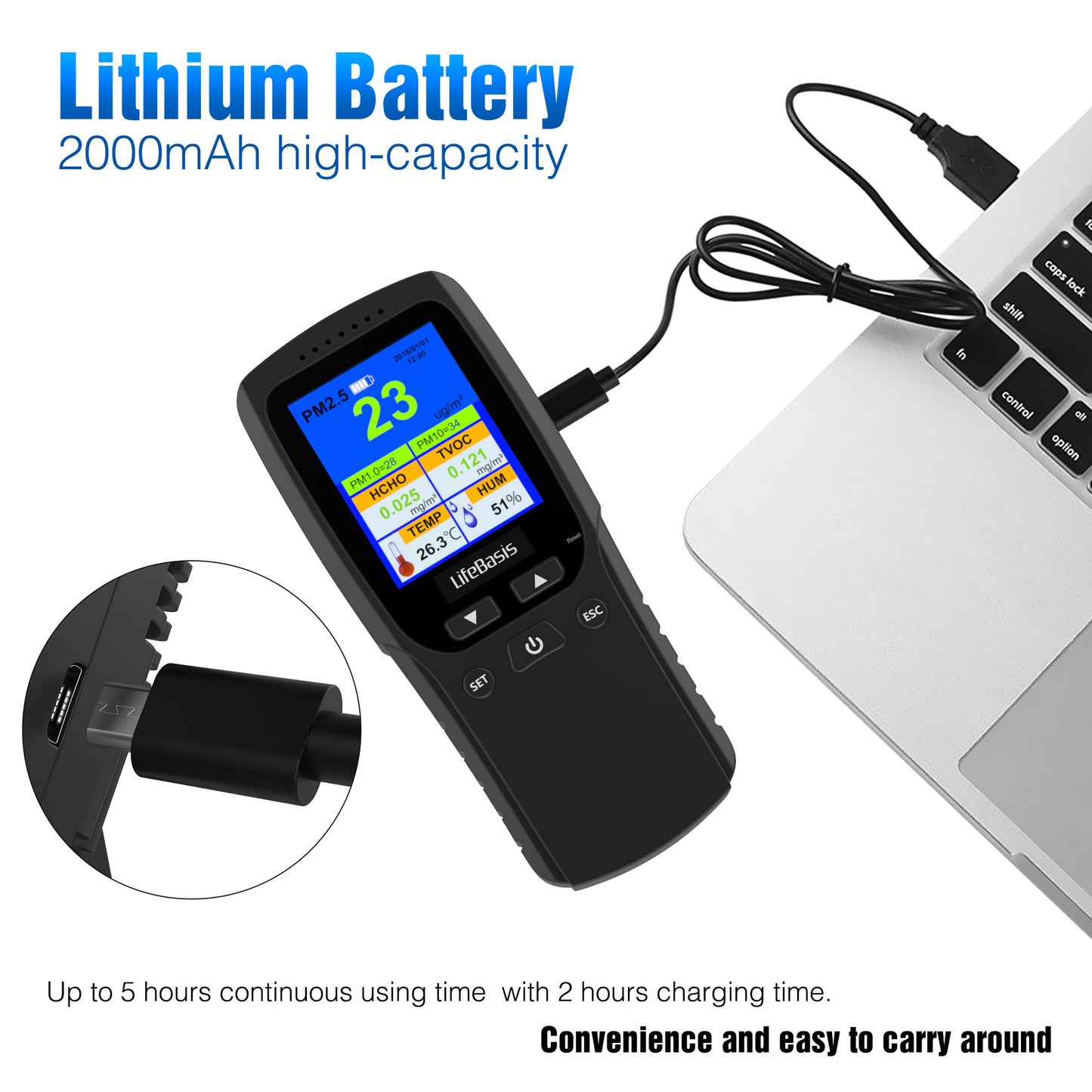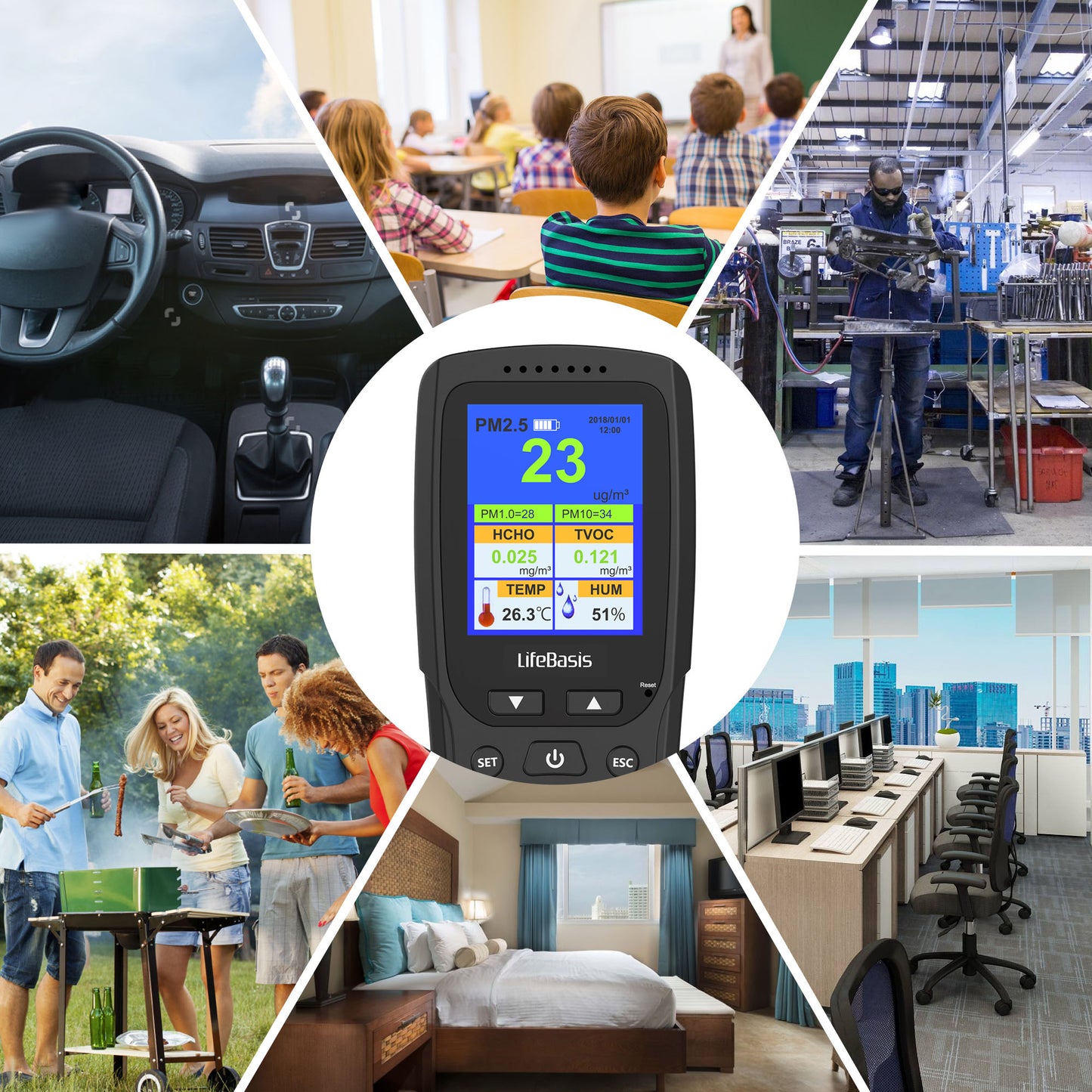 Solid device for the money
Having used this for couple of months now I can say it's a solid device, especially for the money. As long as you interpret results with reason, e.g. when measuring vocs use relative to a good reading. In centre of London close to traffic vocs get above 0.5, particle count 20+. Away from traffic you get 0.1 and less than 5 respectively. Thoroughly recommended. Could be further improved by allowing history reading and connect to wifi.
Conoscere l'aria che respiriamo
Com questo utilissimo oggetto si può misurare la qualità dell'aria degli ambienti. Resistere, in media, più di 1 minuto senza aria vuol dire morire ...quindi conoscerne la qualità... è altrettanto vitale. I valori misurabili sono la temperatura, l'umidità ma soprattutto alcuni parametri caratterizzanti come il particolato PM 1,0 PM 2,5 e PM 10 la quantità di formaldeide (spesso rilasciata dai mobili di bassa qualità e vernici oltre che dai materiali plastici), la quantità di toluene per poi avere un parametro generale chiamato AQI che è quello che riassume la qualità dell'aria. Io lo trovo un oggetto indispensabile perché a volte sensazioni come stanchezza, nausea e allergie sono legate proprio alla qualità dell'aria.
Come ciliegina sulla torta: non va a pile ma è usb! Si ricarica come uno smartphone.... più comodo di così....
Good quality
Amazing tool I always wanted to have! It's so easy to use just switch on and go, as you can see on video air quality as pm2.5 and others changing very fast, just in seconds when I am walking from outside to kithen where is boiling soup, from 8 to 70 (pm2.5). For the temperature and humidity you need to wait some time, as described for better results you need wait 5-10 minutes. Over the boiling soup pm2.5 is 500. It is better than expected, next few days I will measure air at my work place. Well packed, fast shipment! Recommend!
Works well
Seems to work well to detect air pollution. Very easy to use, and good battery life. Humidity readings seem innaccurate but this doesnt affect it's use as an air quality meter. Good value for money.
Looks fantastic, measures a bit lowish
I had another air quality monitor before this one. This shows PM2.5 much lower then that one. I am not sure which one is more accurate, but this one seems to use humidity data while calculating PM2.5, so it is possible that this one is correct. Until I can be sure of its accuracy (and I have doubts) I am leaving only 4 stars, but I really think it is one of the best such monitors I have seen.