LifeBasis Portable CO2 Dector CO2 Monitor with NDIR Sensor and Warning Sound For Grow Tents, Wine Cellars, Homes, Office, School, Cars
LifeBasis Portable CO2 Dector CO2 Monitor with NDIR Sensor and Warning Sound For Grow Tents, Wine Cellars, Homes, Office, School, Cars
Regular price
$76.99 USD
Sale price
$59.99 USD
Unit price
per
Sale
Sold out
LifeBasis upgraded version mini CO2 detector with high precision sensor can accurately track air quality. This CO2 monitor comes with LCD screen warning display and alarm function, real-time monitor and timely alerts air quality. Easy-to-use and super poratble, can be used at schools, office, home, factories, hotels, grow tents, hospitals and anywhere high levels of carbon dioxide are emitted.
Why Choose LifeBasis CO2 Detector?
1. High Precision Sensor
Life Basis 2022 update version CO2 detector with high precision NDIR technology sensor more accurately track air quality. Mini size for easy portability, real-time monitor air quality to protect you and your family's health.
2. Warning Display and Alarm Function
LCD screen for clearer display, color warning display the different levels of CO2 concentration (Green 400-800 PPM, Yellow 801-1200 PPM, Orange 1201-1500 PPM, Red 1501-5000 PPM). The alarm goes off when the CO2 exceeds 1000 PPM, The alarm will be 1 minute when CO2 exceeds 1500 PPM, timely alerts air quality to give you peace of mind.
3. Easy to Operate
One key control for easy operation. Long press the power key to switch on/off. The screen will auto turn off without any active within 5 mins, short click will light up the screen again. Smart bright screen reduces power consumption and increases the number of hours of electricity used.
4.Dense Opening Design
It is convenient for air circulation and heat dissipation. Openings design on the side and back of the device not only ensures that the sensor is in full contact with the air, but also facilitates heat dissipation, thus reducing false alarms caused by excessive temperature and insufficient contact with the outside air.
5. Wide Application and Guarantee
Perfect for monitoring air quality in schools, office, home, factories, hotels, grow tents, hospitals and anywhere high levels of carbon dioxide are emitted.
Life Basis provide 30 days no reason to refund and 12 months product replacement support.
LifeBasis Mini CO2 Detector Specification
Size: 5.3 x 1.8 x1.8 cm 
Weight: 78g
Material : ABS+PC
Charging time: around 2.5 hours
Use Time: around 7 hours
Input Voltage: DC 5V 0.5A
Charging Method: Type-C USB
CO2 Measurement range: 400-5000ppm
Packing List
1 x CO2 Detector
1 x Type-C USB Cable
1 x User Manual 
LifeBasis CO2 Monitor User Manual
Share
View full details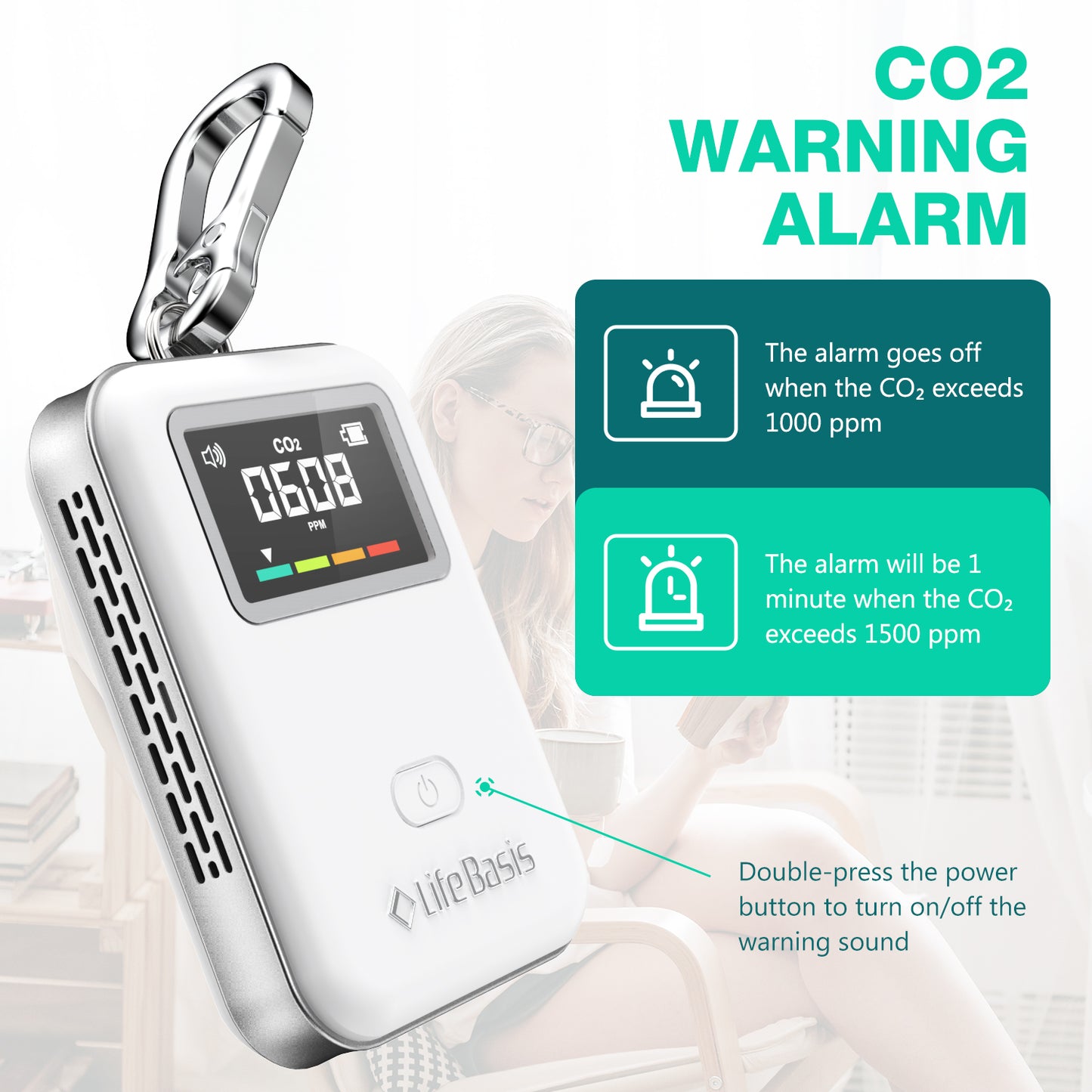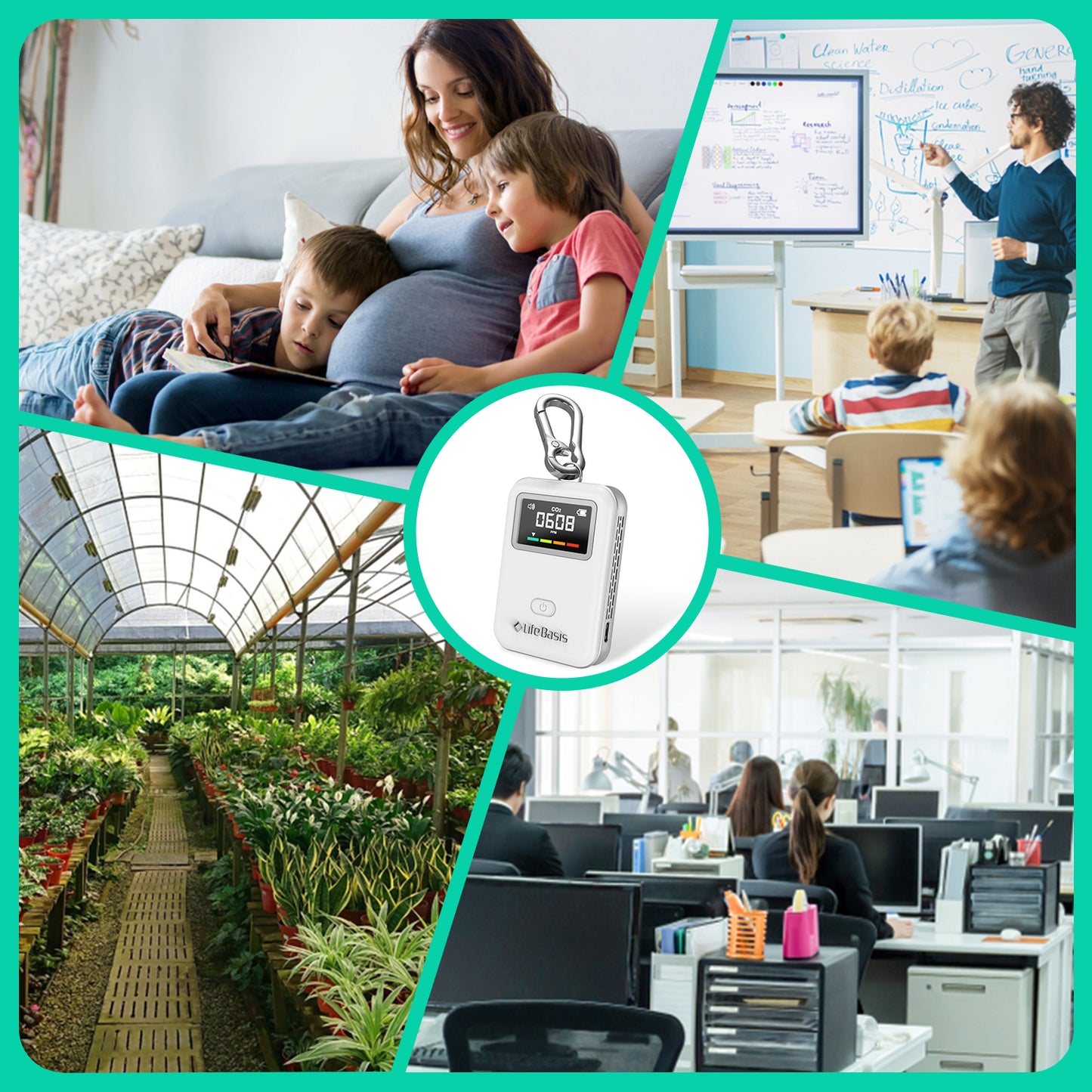 Never knew I needed one.
When I first turned this one I thought this wasn't working. There were no reviews on this so I wasn't sure if this was a reliable product. Also, when I turned it on, the numbers started climbing up and it went into the red zone and an alarm went off. I have no way to test it and see if the numbers are accurate. We'll I took this to the downstairs apartment to test their apartment and then I also took it outside. Downstairs was in the green zone and outside was in the blue zone. I went back to my apartment upstairs and it went back up again. So I opened the windows and the numbers went down to green. Two things; before I turned this on, I actually wasn't feeling so well, a little dizzy and had a headache. Also, we had been doing a lot of cooking on our gas stove. After I opened the windows I felt better and we had stopped cooking. Until I find another way to test the validity of this device, I'm going to heed this devices warnings.
Add a lot of fun
I bring it with me everywhere and see the co2 level. That's a lot of fun! After I wake up in the morning then concentration could reach 1700 that's alarming. Recommend it. Easy to read.
Easy to use. Easy to read
This carbon dioxide detector works great. I tested it by measuring the outside levels of carbon dioxide I got readings in the 400s. After breathing into the machine it went up to the 5000's.
Our house has furnaces, stoves, and gas water heaters. The carbon dioxide detector can help prevent carbon monoxide poisoning. It is especially for my mother who has serious lung problems. The indicators that tell you how good the air quality is.
Detect carbon dioxide in my car
I use it in the car. It can detect the air quality in the car in real time . If the carbon dioxide in the car is too high, it will sound a warning sound. USB charging can be charged directly in the car.
It works
Perfect. Just as expected. Easy to read.