Regular price
Sale price
$43.99 USD
Unit price
per
Sale
Sold out
LifeBasis 2023 version CS1 ultrasonic cleaner new arrival ! Upgraded digital ultrasonic  with industrial IC and mature circuitry technology, more stable and durable. 500ml capacity, 42KHz frequency, provide 360° all-round and deep cleaning for your valuables. Sensitive touch panel design very esay to operate.
Why Choose LifeBasis CS1 Digital Ultrasonic Cleaner?
1.  Professional, Strong & Durable Ultrasonic Cleaner
Proven circuitry, equips with industrial IC with stronger anti-interference ability. This digital ultrasonic cleaner generates 42000 Hz ultrasonic energy waves to 360° all-around deep clean your items. Cleans dirty item in minutes using only tap water, add some liquid detergent to get better cleaning result. Made of SUS304 stainless steel tank provides a good corrosion resistance.

2.  5 Time Modes
Optional cleaning time available, 5 different time mode (180-280-380-480-90s) can meet cleaning needs for most of your daily items. Auto shut-off design allows you to use it while you sleep, making cleaning so relax and easy.
3.  Compact & Portable
500ml (17 oz)capacity, 18.4 x 10.7 x 10.8cm(6.0'' x 2.9''x 1.9'') size, net weight 0.87kg (1.92lb ) super easy to carry and store, is an ideal option to bring on the road.
4. Unique Designs
Sensitive touch panel design, resistant to chemicals with better waterproof performance. Cold blue LED display allow you to watch the countdown to the end of cleaning clearly and intuitively. Detachable power cord design allow you to change water conveniently.

5. Wide Application
LifeBasis CS1 digital ultrasonic cleaner can clean jewelry, coins, glasses, waterproof watches,  watch bands, makeup brushes, makeup sponge, dentures, retainers, night guards, mouth guards, razor heads, eletric toothbrush head and more.
6. Quality Assurance 
Multiple safety certifications, CETL, GS+CE, PSE, SAA certifications.1 year warranty and 24/7 customer service.
LifeBasis CS1 Ultrasonic Cleaner Specification
Unit Size: 18.4 x 10.7 x10.8 cm / 7.3'' x 4.2'' x 4.3''
Tank Size: 15.3 x 7.3 x 4.8 cm (Max water level: 450ml , Min water level: 280ml )
Tank Capacity : 500ml
Longest Item Fits Inside Tank: 15.3cm/6.0''
Tank Material: Stainless stell SUS304
Housing Material: ABS
Net Weight: 0.87kg/1.92lb
Gross Weight: 1.06kg/2.3lb
Digital Timer Settings: 180s-280s-380s-480s-90s
Frequency: 42KHz
Power Supply:  35W  AC 100~240V, 50/60 Hz
CS1 Ultrasonic Cleaner Operation Instruction
1. Add water to the line "MAX"
2. Put items into the tank.
3. Select cleaning time 
4. Press start button to start cleaning
5. Clean items
6. Unplug power cord after cleaning.
Note: 
1. Read user manual carefully before using the ultrasonic cleaner.
2. Don't turn on the machine without water in the tank. 
3.  Special cleaning solutions can be added in to tank, such as alcohol, cleansing water, Jewelry cleaning solution, rust remover etc. but you need to clean the tank and wipe it after cleaning. Pls contact us before adding special cleaning solution into the tank if you are not sure whether the solution can be added in to tank.
Package Includes:
Ultrasonic Cleaner Unit *1
Power Cord *1
Basket * 1
Watch Stand * 1
User Manual * 1
Share
View full details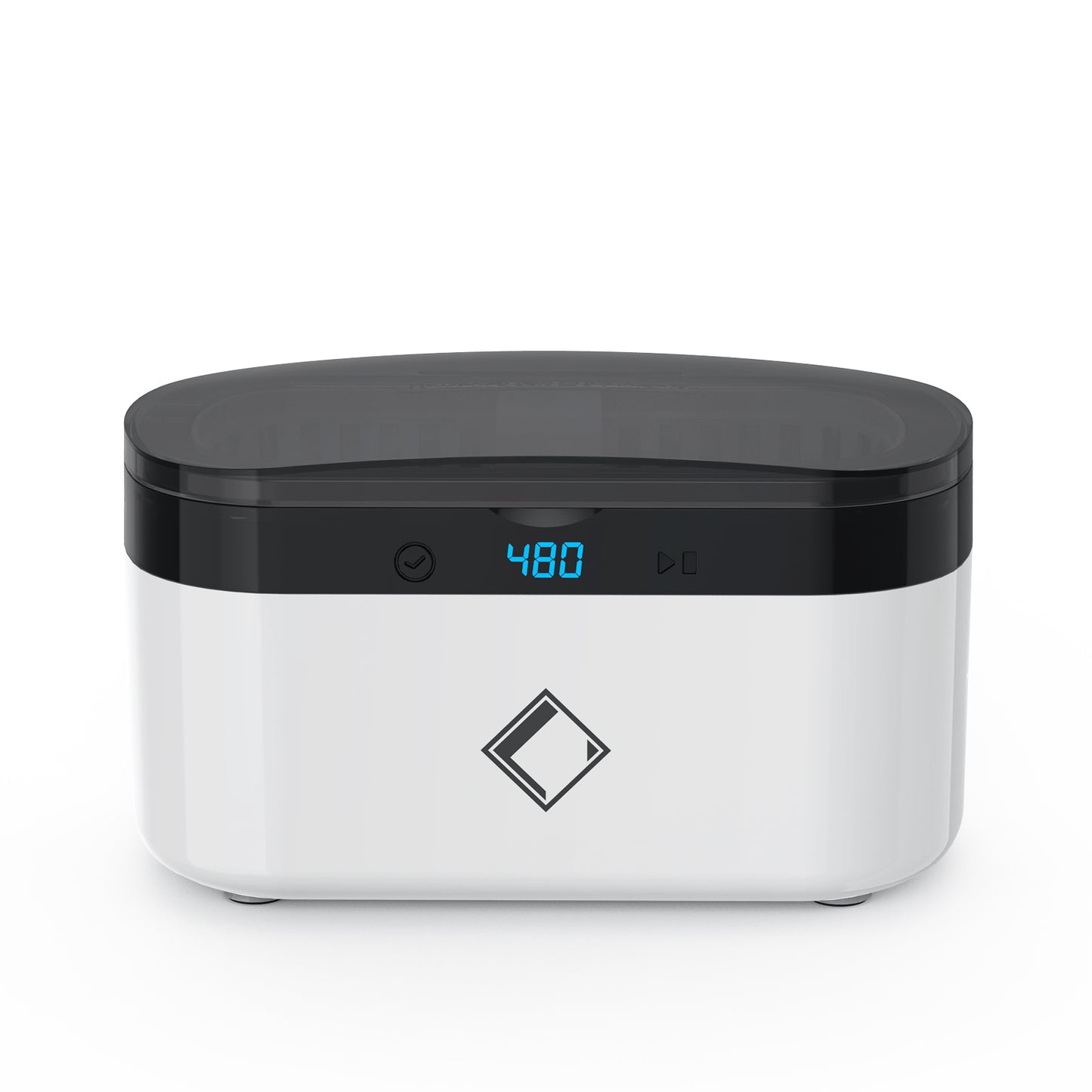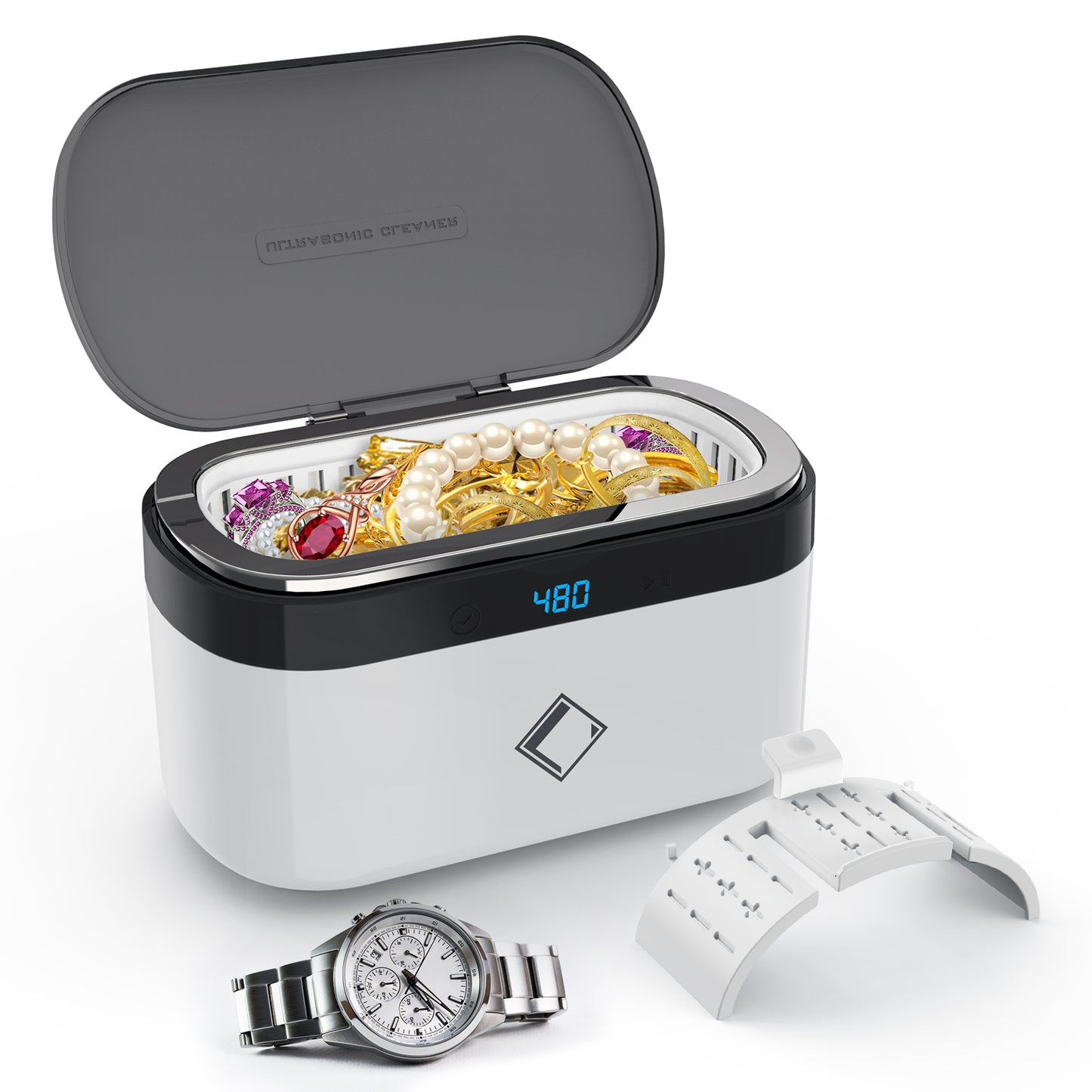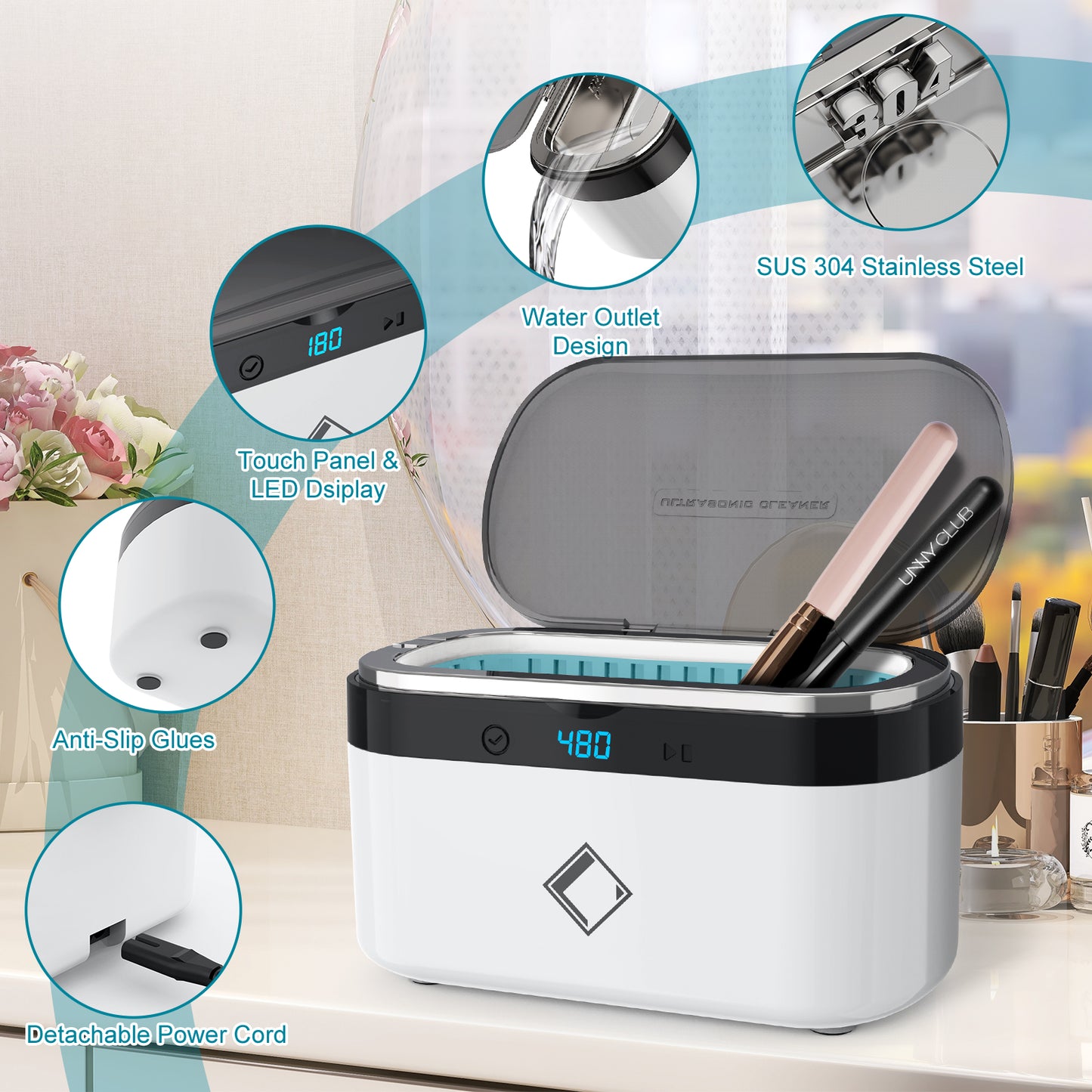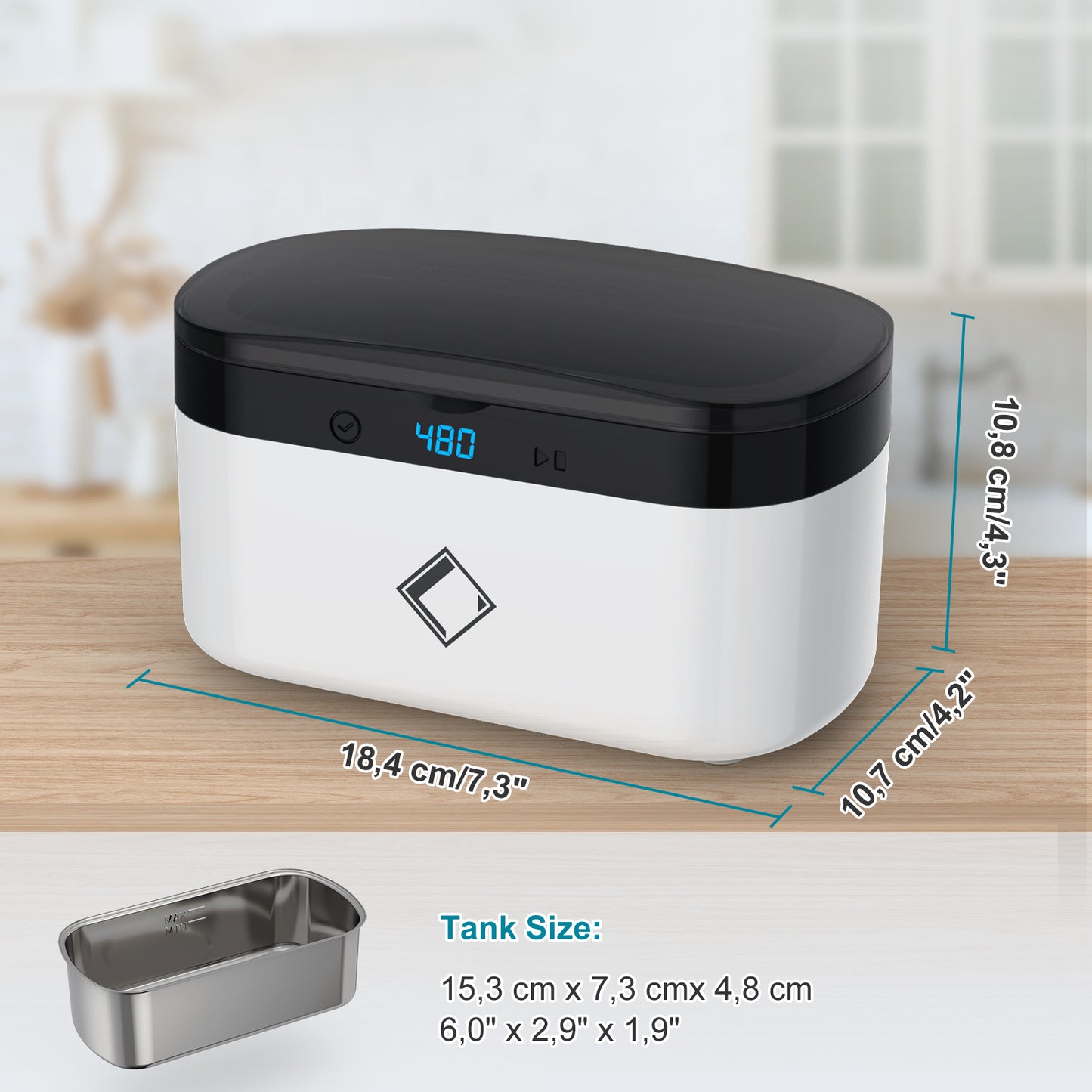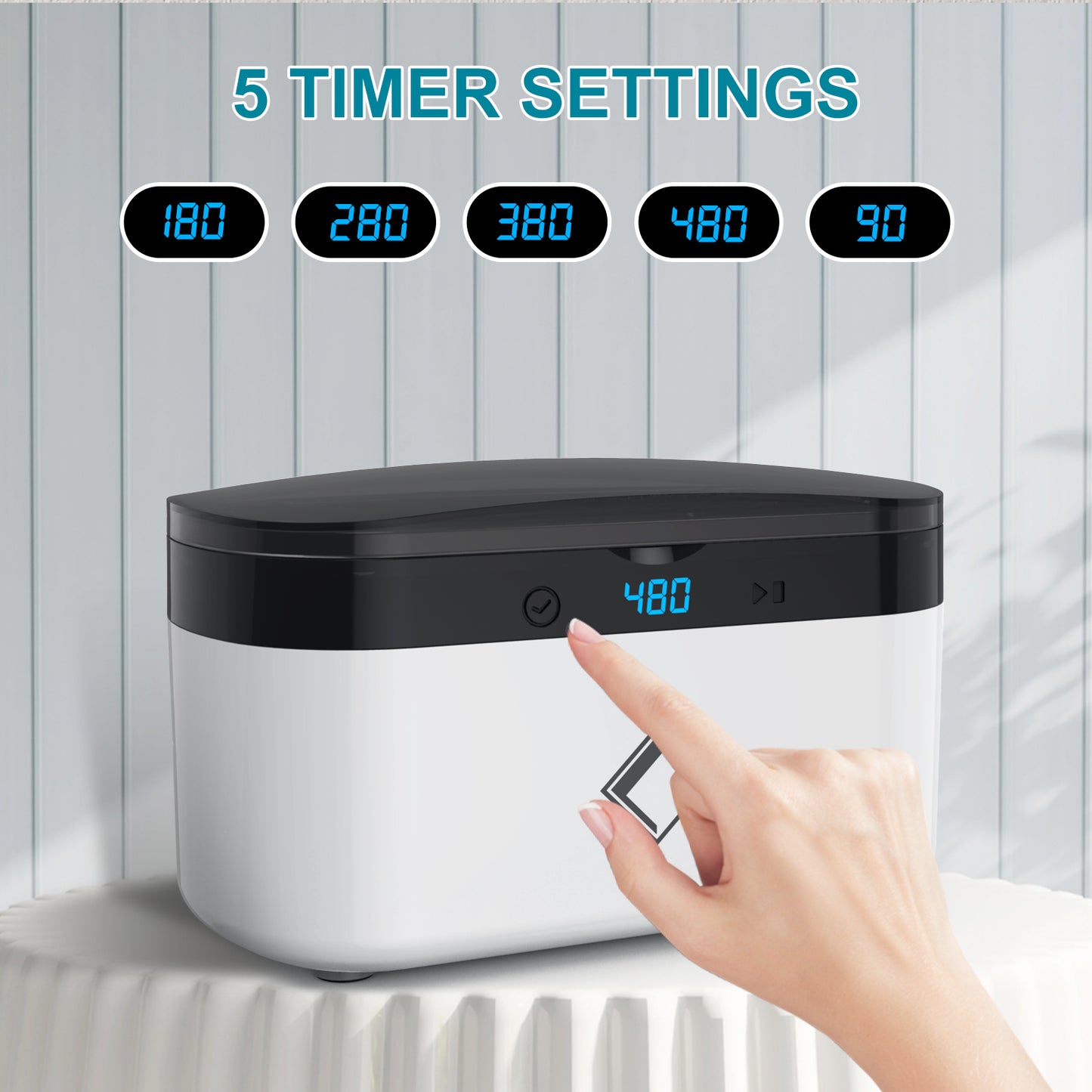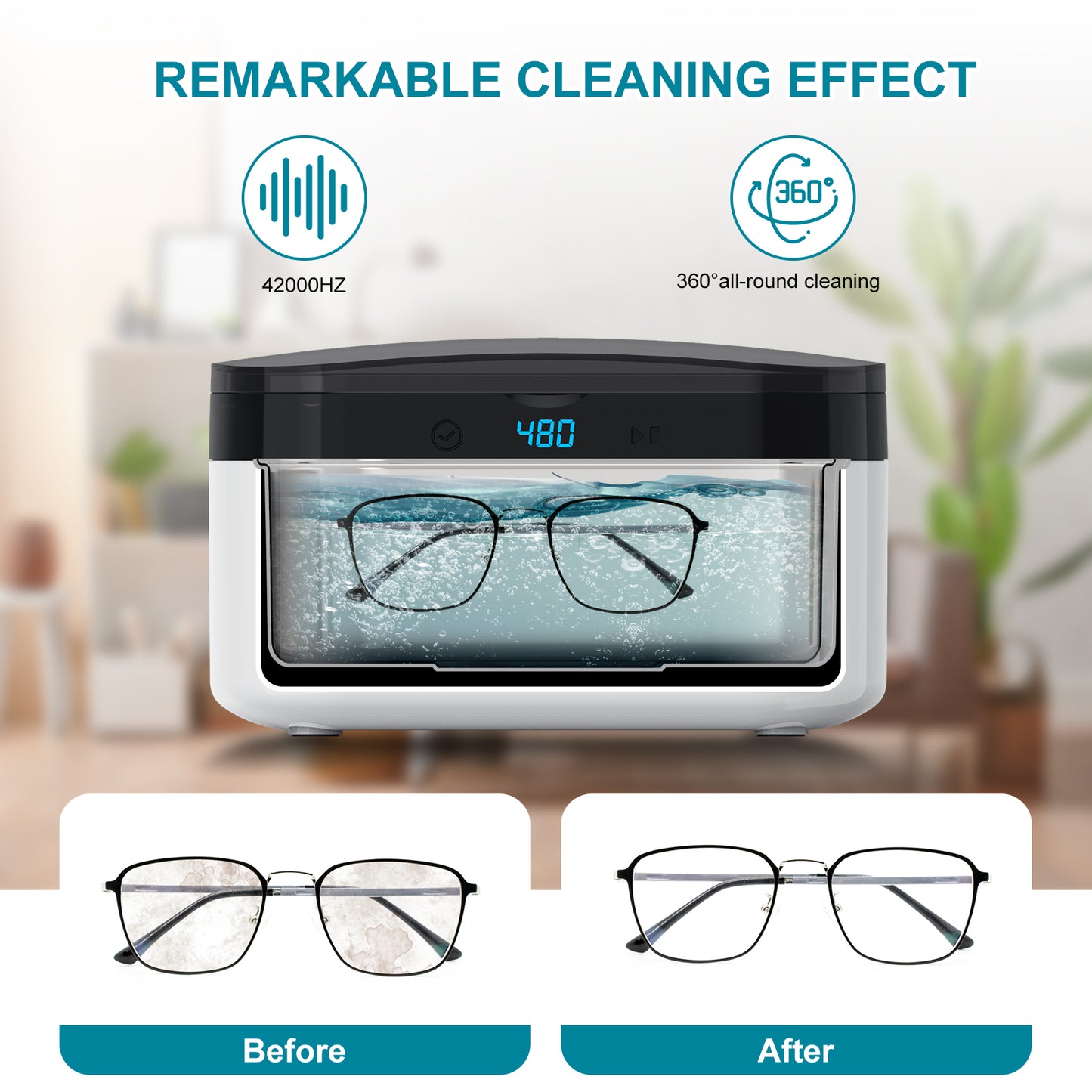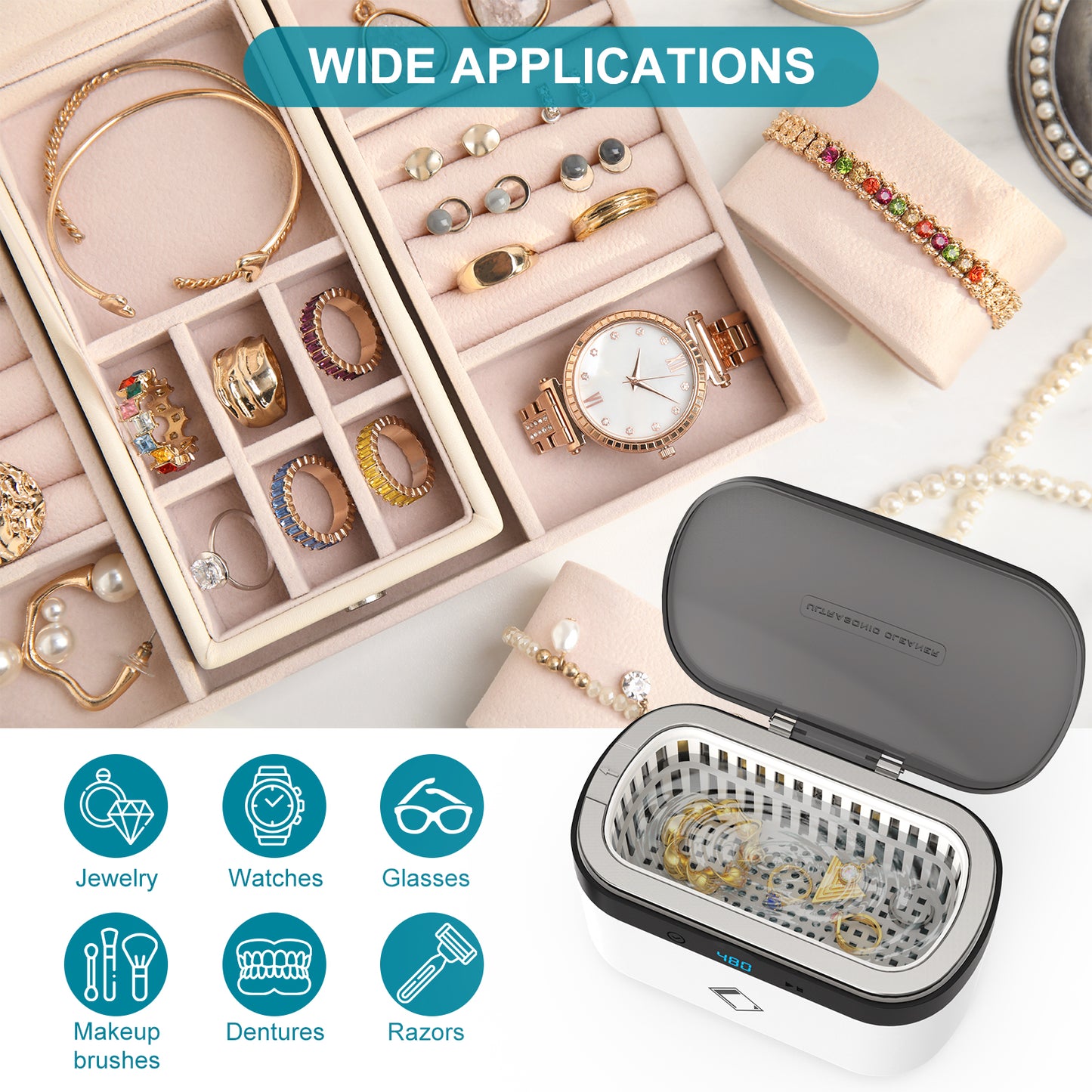 Seems like a nice idea
I like this for making jewelry look shiny. My mom has a similar one and she often uses it to shine up her jewelry and make it Look pretty. Overall, I think this is nice. Is relatively straightforward and easy to use. Put your jewelry and turn it on an ultrasonic cleaners it.
Overall, I thought it was nice looking. Like I said, it seems pretty straightforward to use. I like the easy operation of this. Make sure you read the instructions so you know what is appropriate to put inside this.
Works surprisingly well!!
I wasn't sure what to expect with this but I'm pretty shocked at the results! I didn't expect things to get so shiny! I just used some hot tap water and a drop of dish soap and it worked perfectly! I HIGHLY recommend this.
One thing I was confused about was plated items. It says you can't do plated items in this but I thought even nice jewelry is plated because I thought gold was too soft for example. I could be completely wrong but I tested out some department store earrings and they were just fine! I only did it once so I don't know if over time the plating would crack.
Either way, it worked great!!
Underestimated...This Is Amazing!
I bought this after thoroughly searching through all the other ultrasonic cleaners, and this brand seemed to have a lot of other reviews in the other sizes so I gave it a shot. So far I've cleaned: rings, watches, keychains, metal apple watch bands, keys, my chain, etc. and I'm so happy with how everything has been coming out. Years of grit + dirt have been removed and everything feels clean to the touch (thank goodness).
I don't have anything else to compare it to, but everything looks the cleanest it ever has. I'm only using a drop of dish washer soap at 180 seconds and running another 90 second rinse.
I hope it lasts...seems like that'll be the only thing that could ruin this perfect score. We shall see!
Super nice jewelry cleaner
My daughter is constantly coming over and dropping her jewelry in my cleaner, so I figured it would be a nice gift since it is something she would actually use a lot. I love this one too, it is very inexpensive, works wonderfully and is easy to use. I just fill it to the line with jewelry cleaner, then put my jewelry into the basket and drop the basket in. I turn it on and walk away. I let it run for 15-20 minutes then use a tiny brush to make sure it is all clean before removing and drying off. Good quality and well made, highly recommend.