Regular price
$599.99 USD
Regular price
Sale price
$599.99 USD
Unit price
per
Sale
Sold out
LifeBasis CD-4875 digital ultrasonic cleaner is a state-of-the-art and efficient device designed to restore and preserve the quality of vinyl records. 7.5L capacity and 35KHz frequency, equips with 3 industrial grade ultrasonic transducer and 3 ceramic heaters, gently and effectively remove dust, dirt, grime, and other contaminants from the surface of vinyl records without causing any damage or degradation to the delicate grooves.
LifeBasis CD-4875 Ultrasonic Vinyl Record Cleaner Hightlights
1. Professional, Durable and Reliable
CD-4875 ultrasonic cleaner equips with 3 industrial ultrasonic transducer (3 × 55 W = 165 W), uniform distribution of ultrasonic waves, strong cleaning, high durability.  3 ceramic heaters (3 × 80 W = 240 W), fast heating, heating stops when the temperature reaches 35℃. Multiple circuit protectors, when overloaded or improperly used, the protectors shut down the power to certain areas to protect the machine. Moisture-proofed PCB with industrial IC. PCBs are placed vertically for better moisture-proof performance. Better anti-interference.
Solid and advanced structural design. 4.5mm thick wall housing made from engineering grade plastic with tongue in groove design for better water-proof and drop-proof performances, low noise suitable for indoor uses.
2. Touch Operation Panel & Adjustable Cleaning Time
The three-color LED display allows better reading and the touch keys are better resistant to chemical solvents and waterproof. Control panel with capacitive sensing technology, durable, resistant to water and harsh chemicals. Cleaning time can be set 1 to 15 minutes freely, meet different cleaning needs.
3. Powerful Cleaning & Large Capacity
35KHz ultrasonic waves are distributed evenly,ensures deep and thorough cleaning without causing any harm to the delicate grooves or audio fidelity. 7.5ml capacity, can clean objects up to 36.5 cm long.
4. Powerful Function & Reliable Protection 
Low speed rotation at 5 rpm for uniform and fast cleaning. CD-4875 digital ultrasonic cleaner can clean ten  7-12" vinyl records at the same time in 5 minutes. Fixture can be titled up 90 degrees away from water, good for mounting the records and keep them away from water.  Lable protectors protect vinyl record lables from being wet during cleaning.
5. Wide Application
CD-4875 digital ultrasonic cleaner can not only clean 7-12" vinyl records but also clean watches, jewelry, dentures, combs, earrings, cutlery, surgical instruments, tattoo tools, makeup brushes, metal filters and covers, electronic devices, pens, musical instruments. Can be used in auto repair shops, jewelry shops, optometrists, nail salons, dentist's offices and other industries.
6.  Quality Assurance 
CD-4875 digital ultrasonic cleaner passed CE, PSE, TUV, GS certification. LifeBasis provide 1 year warranty and 24/7 customer service.
Notice: 
a. Read user manual carefully before using the machine
b. please put water in the tank before turning on the machine, otherwise the machine can be damaged
c. scratched glasses should not be cleaned, otherwise it will increase the damage.
d.  do not clean items like soft gemstones like opal, pearl, or amber 
LifeBasis CD-4875 Digital Ultrasonic Cleaner Specification
Tank Capacity: 7.5L;  Maximum: 6.0L, Minimum: 4.3L
Tank Size: 33.1 x 23.8 x 10.5cm (13.0" x 9.4" x 4.1")
Longest Item Fits Inside Tank: 37.0cm/14.4"
Tank Material:  Stainless Steel SUS304
Housing Material: ABS
Ultrasonic Frequency: 35,000Hz
Digital Timer Settings: 1~15min
Power Supply: 380W (AC 100~120V 60Hz)
                       410W (AC 220V~240V 50Hz)
                       310W (AC 100V 50/60Hz)
Unit Size: 54.1 x 33.7 x 27.7cm (21.3" x 13.3" x 10.9")
Net Weight: 10.65kg/23.48lb
Gross Weight: 11.85kg/26.12lb
Packing List
1* record cleaner unit
1* record holder for 10 records
1* drain pipes
1* adapter
1* user manual 
Share
View full details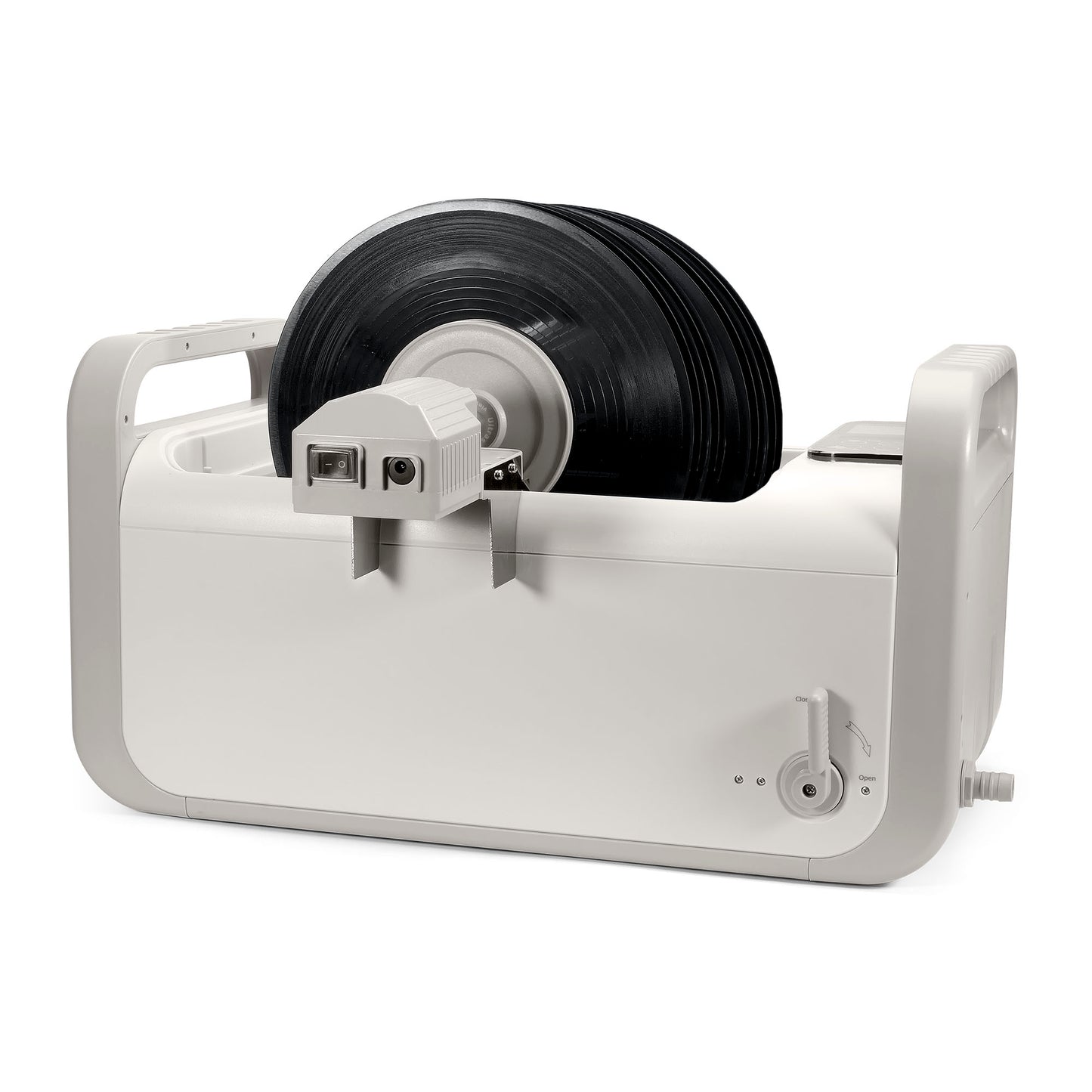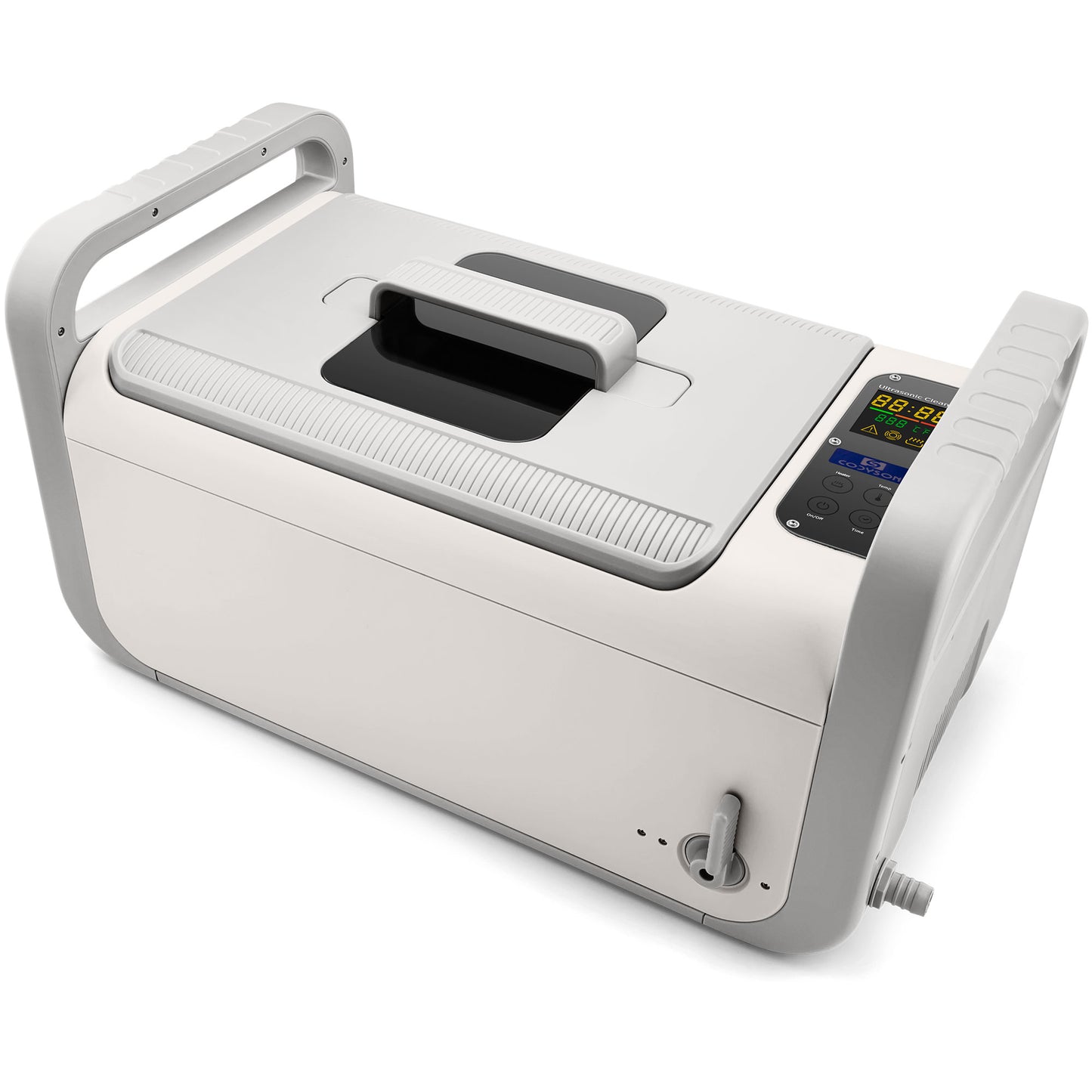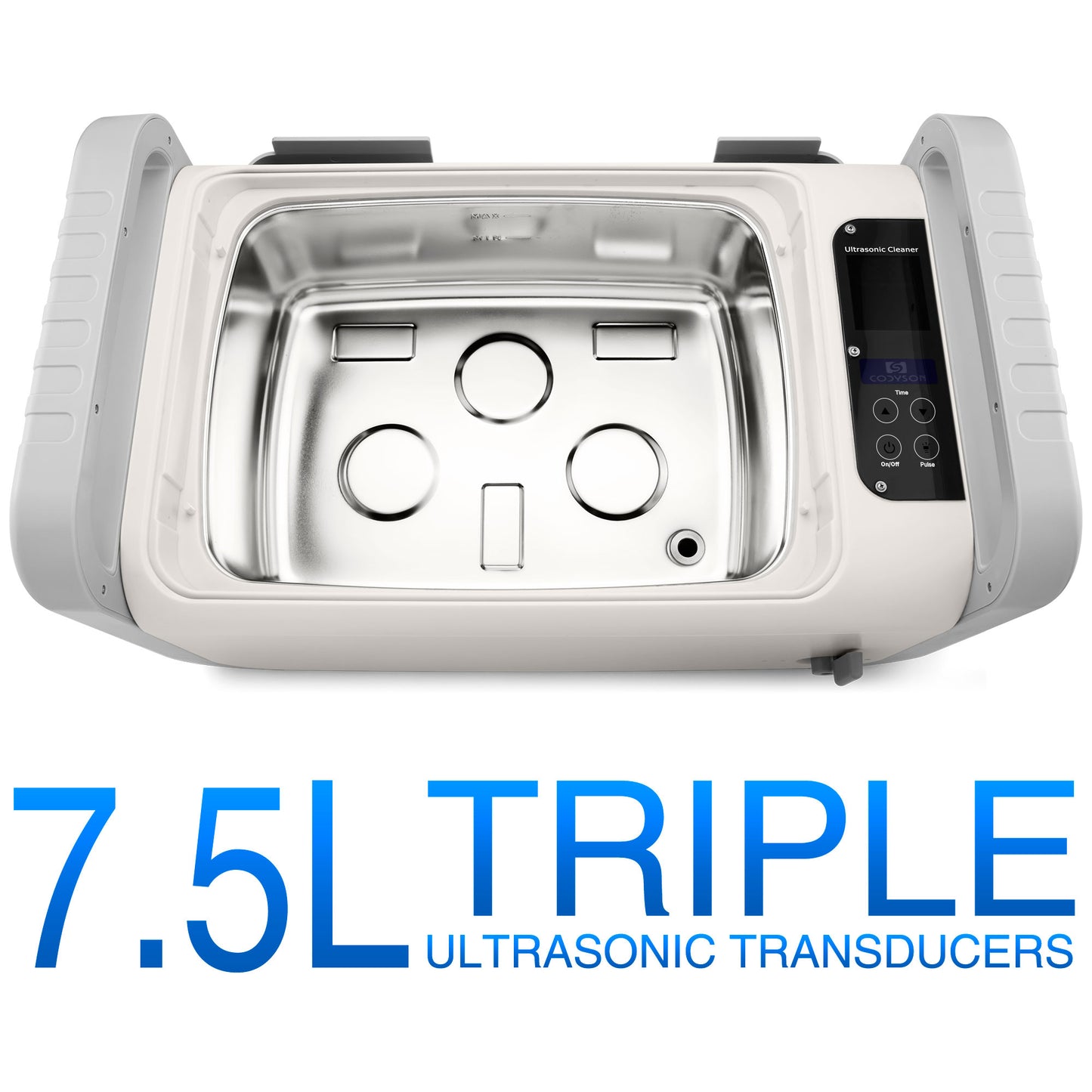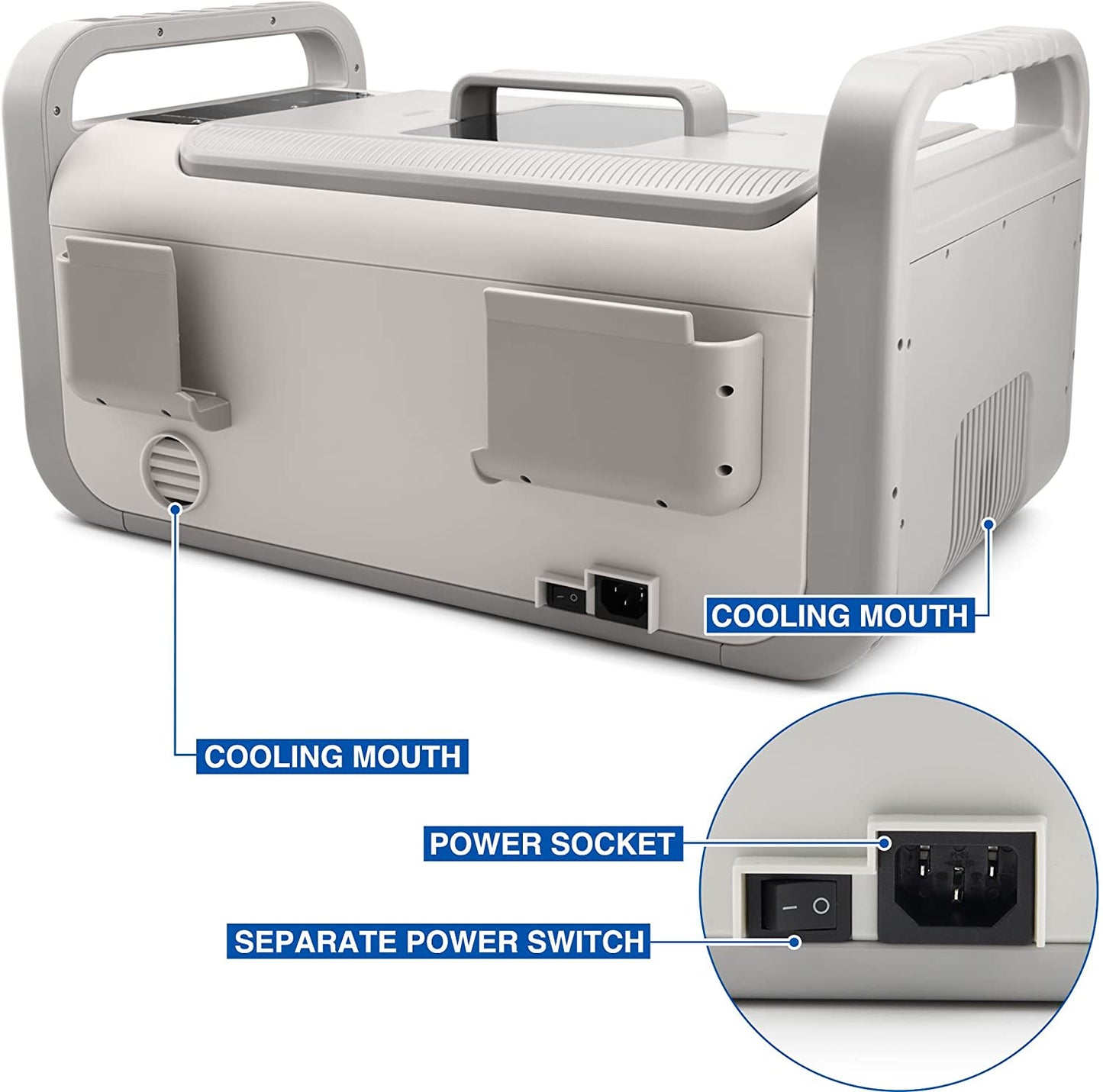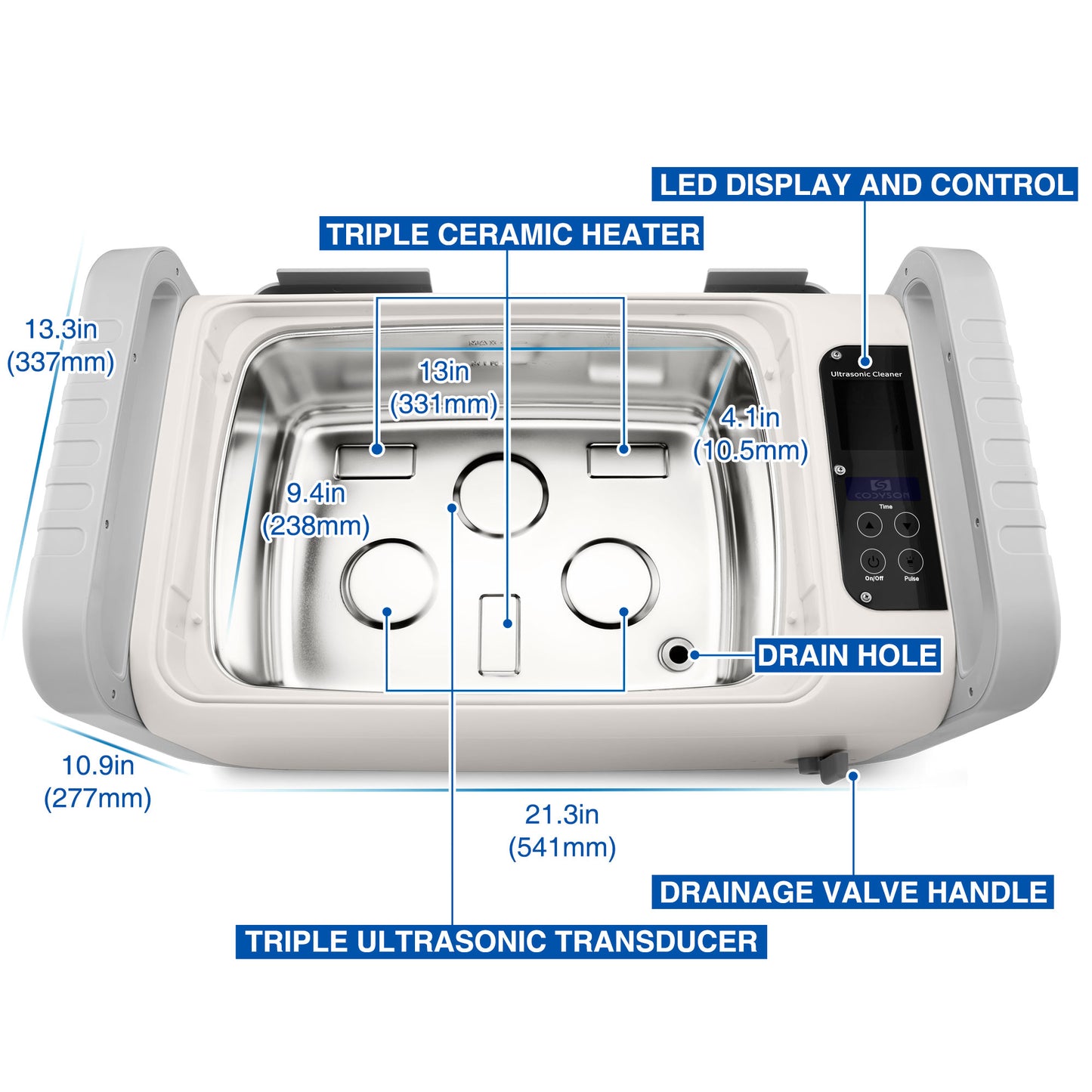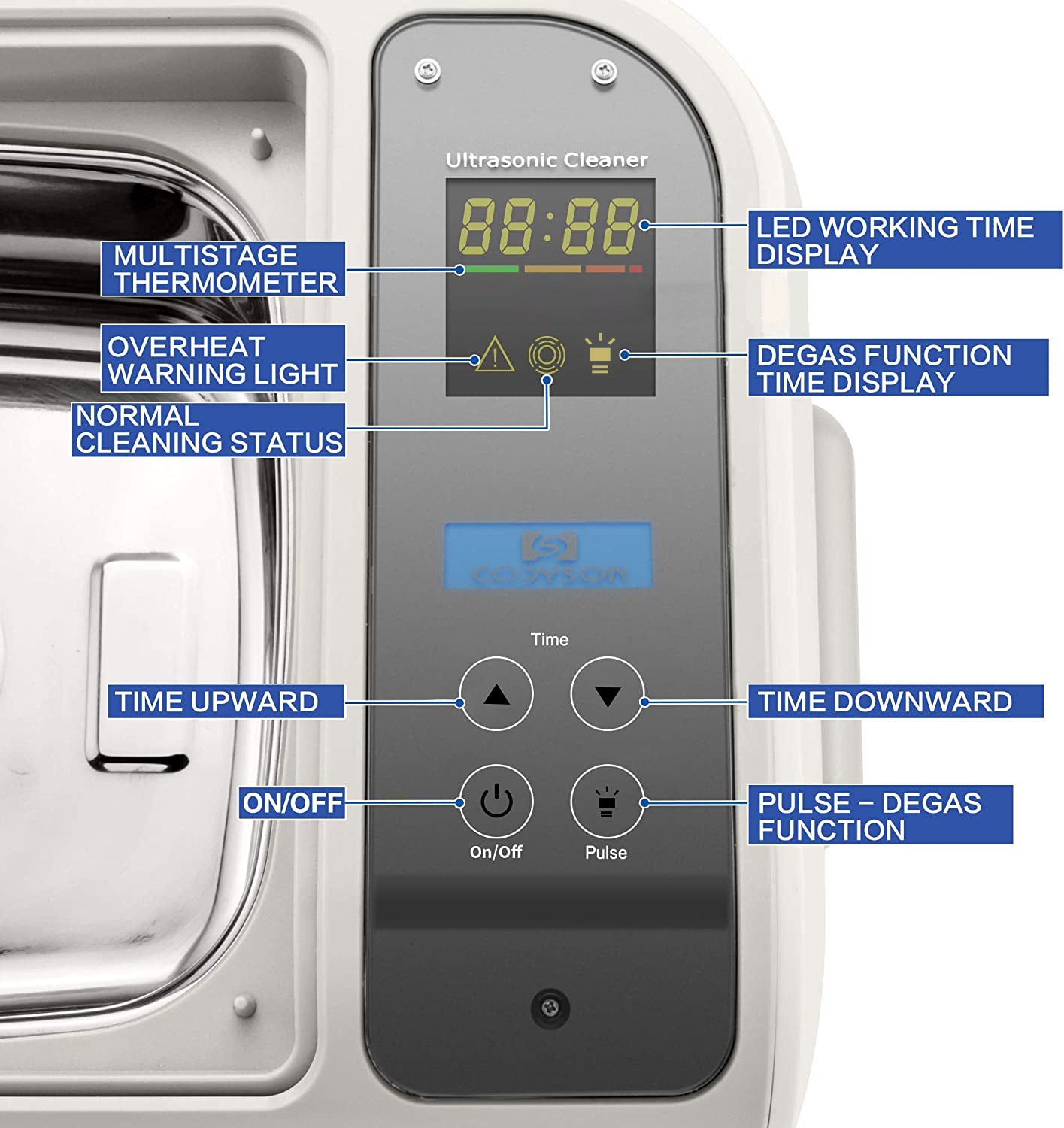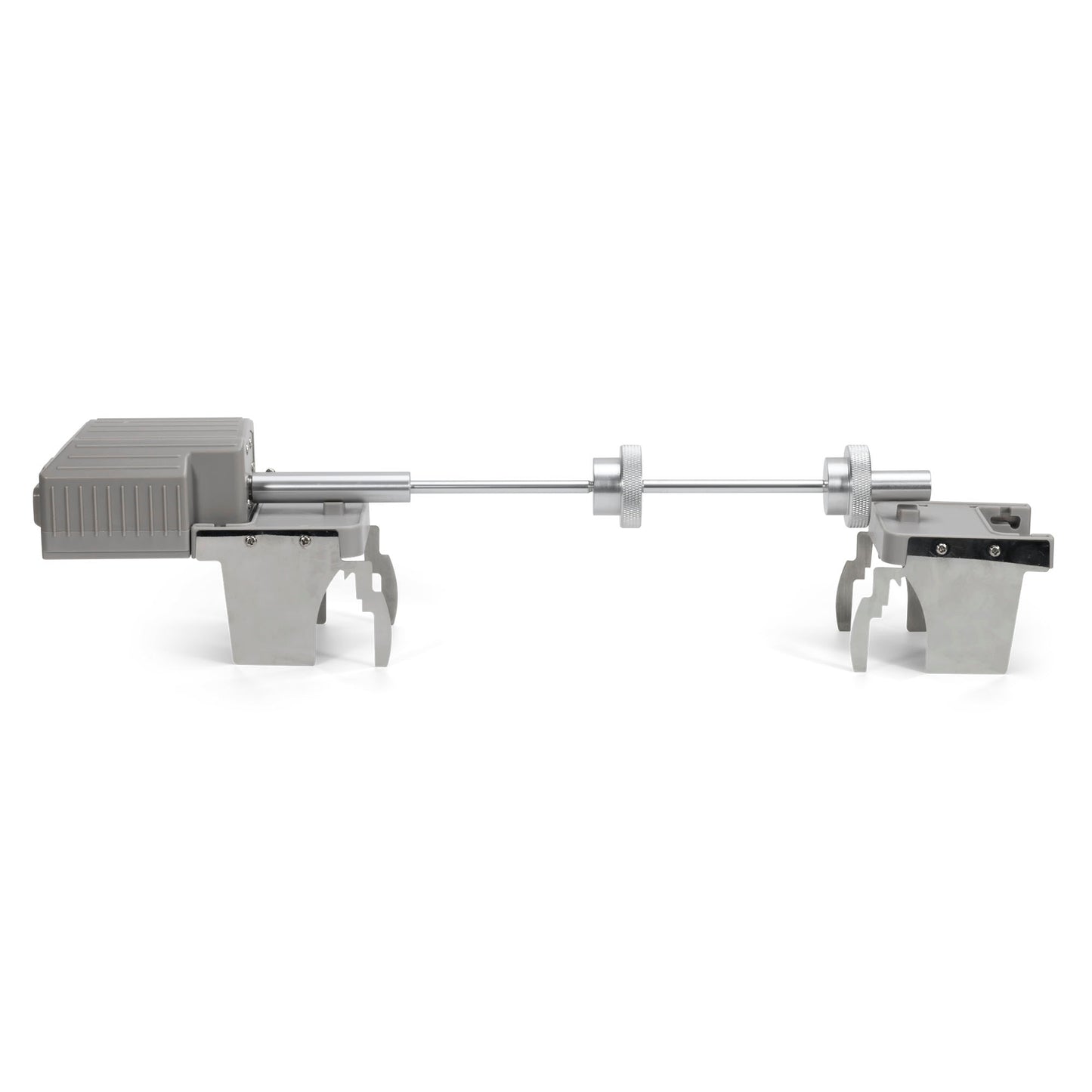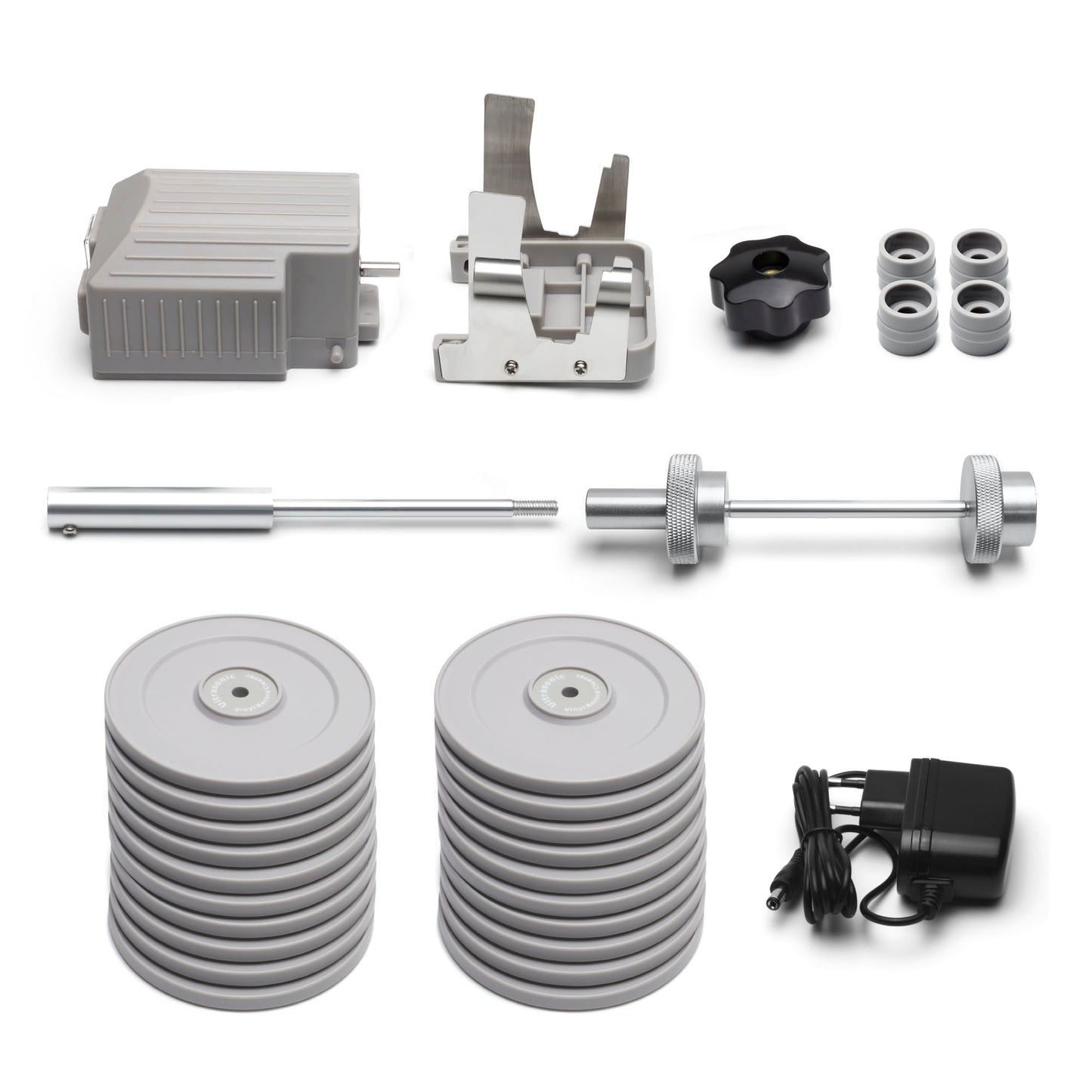 Super good device!
Was thinking to buy cheaper model that is 200 euros on amazon. But choose this and i am really happy.
Pro:
-high quality plastic of housing and all other parts
-touch screen buttons and color display
-easy to setup and operate with device
-installing and taking out vynil is user friendly
-not too noisy, i wash in the kitchen on the table with close door. wife said that in other parts of apartment is quit and comfy for other members
- easy to drain the water
- cables are long enough and both are for EU plugs (models twice cheaper are not with EU standard ,need to buy adapters)
- good design of handles, comfortable to carry especially when is full of water.
- washer that divide vynils are really good designed. On one side thy have rubber o-ring to protect paper labels.
Cons:
- not very clear how and when exactly water is warmed. In manual is written it's warms automatically. but from what moment exactly not clear, from moment you turn on the power switch or only when ultrasonic func if active.
- the metal part that should be attached to the edge of the cleaner on which to attach motor has 1 mm play. Not critical but... i inserted a piece of smth to fix it otherwise 12" vynil is too close to the bottom of the bath.
P.S. washed around 20 vynil (12 inch) for first time. All good. Before i insert in the water vynil i wipe every side with velvet cloth, to minimize dirty water. To the maximum fill line i fill 5l of distilled water. i have also 7 inch vynil for them need to add more water to reach the middle o fvynil. at the end i put 3-4 drops of dishwasher detergent (Fairy) for super dirty vynil. read lot about chemicals that also can be added like Isopropanol, Mirasol Antistatik, Ilford Ilfotol Wetting Agent . Maybe in the future i will try for the first time i am glad with results.
Platen wassen zoals het hoort.
Wassen zonder probleem. Alleen met gedistilleerd water alle stof en vuil uit de groeven van de plaat. Degelijke bouw en constructie. Redelijk duidelijke handleiding en bediening. Kan tot 10 lp's in 1 wasbeurt behandelen.
Clean is good! LifeBase is better!
Like many others, I have cleaned my records as follows: record on the turntable; Detergent spread on it with the brush and then vacuumed. Plate turned and again the same procedure! Success was ok but associated with a corresponding investment of time.
With the LifeBase you can clean up to ten plates at once. Clamp the plates onto the shaft and let them spin through the bath in a relaxed manner. 10 - 15 min under ultrasound. Drink coffee or something else while you do it. Then simply let the plates dry. The result? Just try ((-; !!!
The device is of high quality!
gründliche Reinigung
Das Gerät lässt sich schnell aufbauen, ist einfach zu bedienen und geräuscharm. Man kann zehn Schallplatten auf einmal reinigen. Ich verwende eine Mischung aus 1 Liter Alkohol (Isopropanol) + 100 ml konzentriertes Netzmittel und fülle das Ganze mit destilliertem Wasser auf. Sieben Minuten Waschgang. Die Degas-Funktion benutze ich eigentlich nicht. Die Platten sind danach absolut sauber was man daran erkennt, dass nach dem Abspielen an der Nadel so gut wie nichts zu sehen ist. Der Klang ist deutlich besser. Eine zerkratzte Platten bleibt aber zerkratzt. Nach 2-4 Waschgängen lasse ich die Lösung durch einen Tee- oder Kaffeefilter laufen. So reicht sie locker für über 100 Schallplatten.
Vorher Grobreinigung in destilliertem Wasser mit Knosti o.ä. Danach neue Innenhülle!
Guter qualitativer Ultraschall - Plattenreiniger!
Der Schallplattenreiniger ist qualitativ gut verarbeitet und macht seine Sache ordentlich!
Auch die Lautstärke ist im grünen Bereich...und er wäscht die Schallplatten sehr gut sauber.
Einzig die Bedienungsanleitung könnte etwas ausführlicher sein . Leider gibt es diese nur in englischer Sprache anstatt deutsch.
Auch der Aufbau geht relativ schnell Gute Reinigungsleistung. Und der Preis ist für die ordentliche stabile Bauweise des Ultraschall Reinigers angemessen und in Ordnung!
Zumal man bis zu 10 Schallplatten gleichzeitig auf einmal reinigen kann!
Kaufempfehlung!