Regular price
$114.99 USD
Regular price
Sale price
$114.99 USD
Unit price
per
Sale
Sold out
There is an acknowledged risk of lung cancer from radon. LifeBasis randon detector helps you to monitor the air quality easily. The portable randon tester comes with long and short term readings, aiming to identify any potential health risk and see the effect of measures to reduce the radon level, protect health for you and your families effectively.
Why Choose LifeBasis Radon Tester?
1. ACCURATE MONITORING
Radon is known to be harmful to humans in large quantities. Radon levels fluctuate every day, it is essential to detect surroundings environment accuratly everyday. LifeBasis portable radon detector help your to monitor the air qulity easily, protect helath for you and your faimily.
2. Two Readings
The radon tester comes with long term and short term readings. The long term average represents the average radon value for the on going measurement, one year maximum, aims to identify any potential health risk; The short term average represents average radon value over the last day or last 7 days, to check effect of reducuing radon level measurement.
3. Fast & Clear Reading
The large digital screen allows you to read the monitoring date and get a quick overview for surrounding radon value easily and clearly. When high level radon is detected, you can take action immediately.
4. Versatile and Portable
Lightwight and easy to carry (about 150g). Battery-powered (Not included) radon tester, low consumption, no need to worry about charging at all. Your can use it anywhere, home, office, classroom, basement, hotel or even when travelling.
5. Warranty & Service
 Life Basis provide 30 days risk free hom trial and 1 year replacement warranty.
How To Use The Radon Tester?
Two buttons on the back of the tester.
1. RESET : press the button to restart the instrument before a new measurement. This operation removes all stored radon data. Remember to note all previous measurement before using the RESET button.
2. MODE : press the button to get information on the number of measurement days since the instrument started for the first time or the last RESET operation.
Note: 1 ) Upon battery replacement,the instrument is reset and all stored data deleted.
2) Don't moved it during measurement.
3) If the display shows 'Err'and a number , press RESET, remove and reinsert the batteries.
LifeBasis Radon Monitor Specification
Sensor: Alpha Spectrometry Sensor
Power Supply: 3AAA alkaline battery (not include)
Accuracy/Precision: 7days<10% ; 2 month<5%
Measurement Range: 0-500 pCi/L (or 0-999 Bq/M)
Operation Environment: Temperature: 4-40 ℃ ; Relative Humidity< 85%
Size: L 125 x W 70 x H 25mm
Weight: 150g
Packing List
Radon Detector x 1 (battery not including)
User Manual x 1
Share
View full details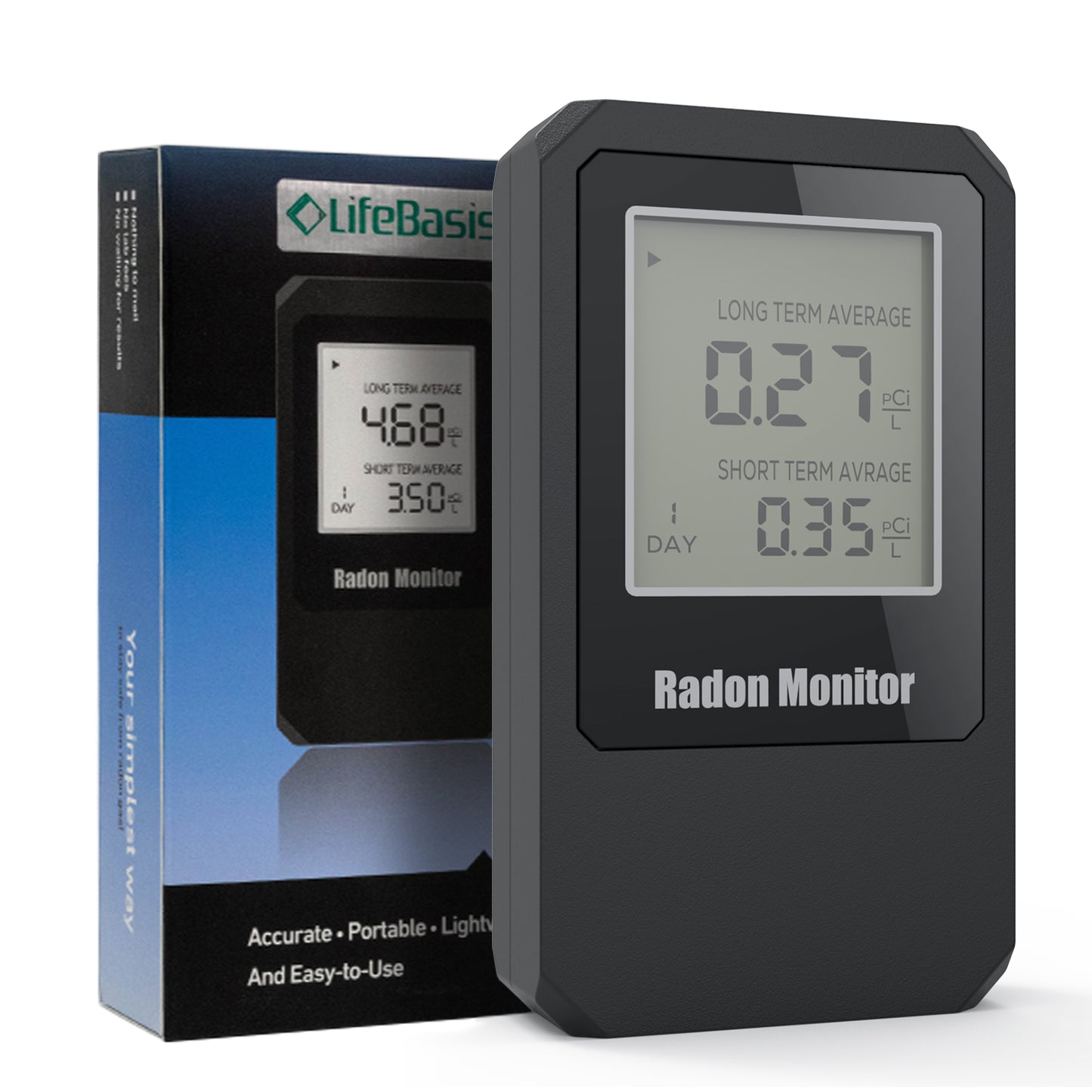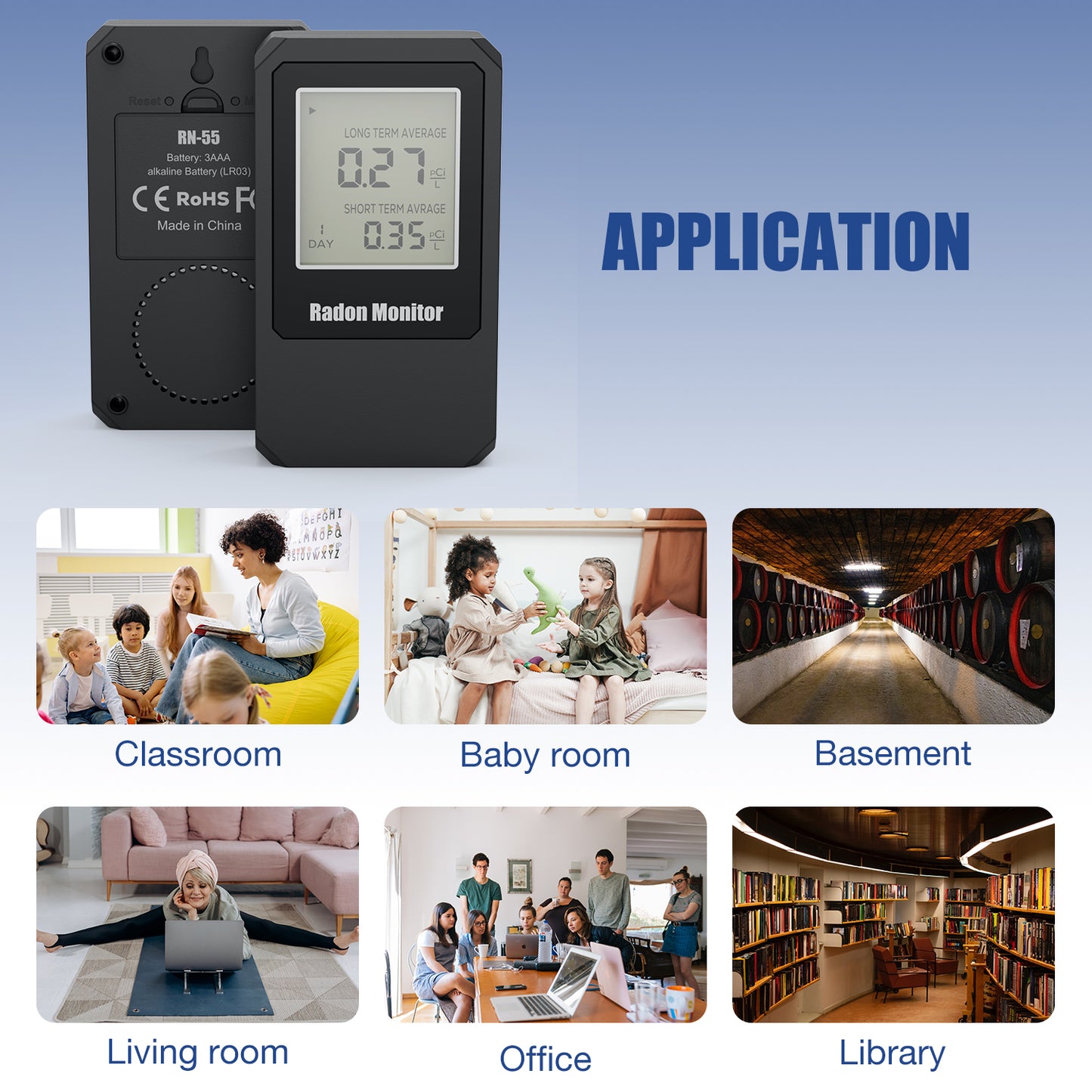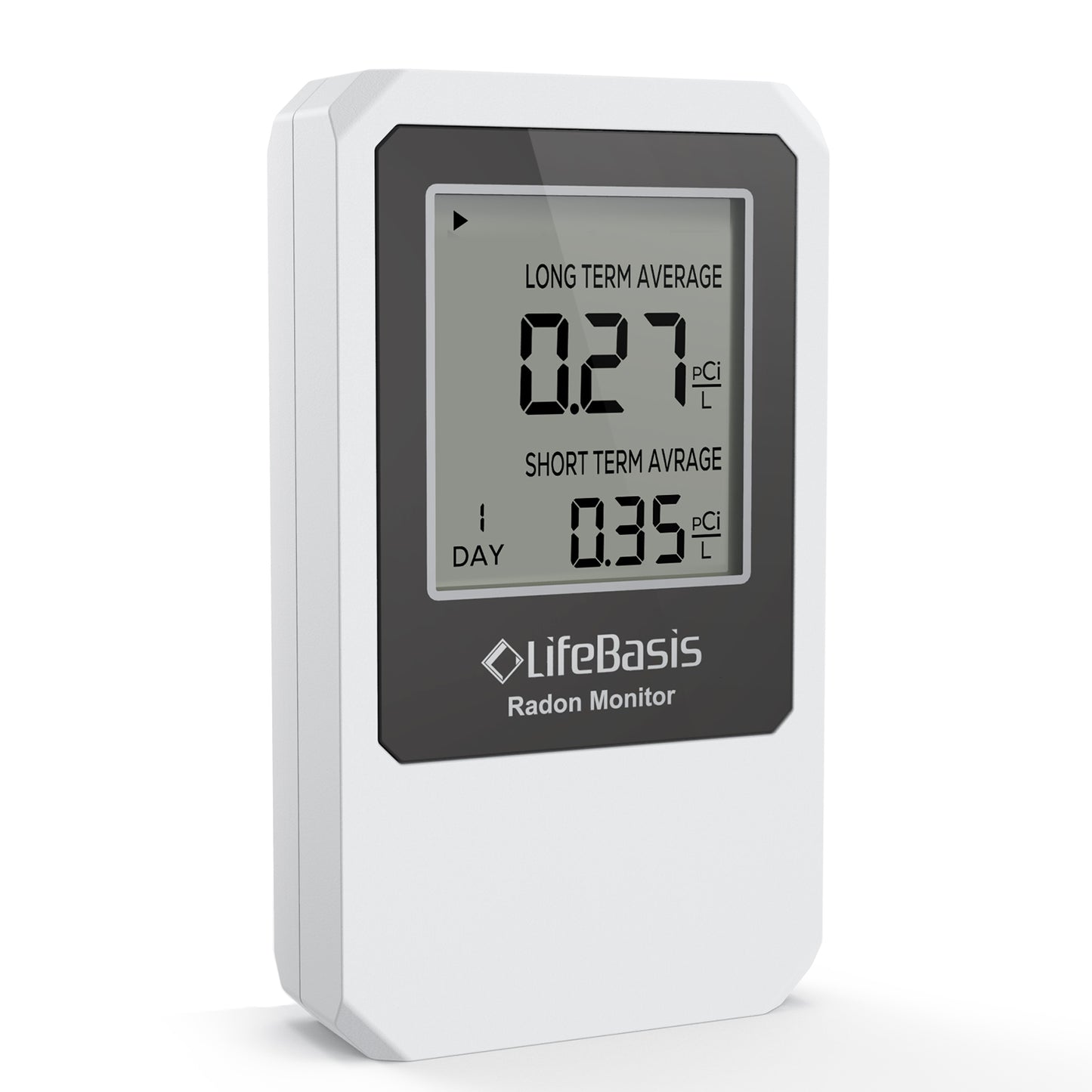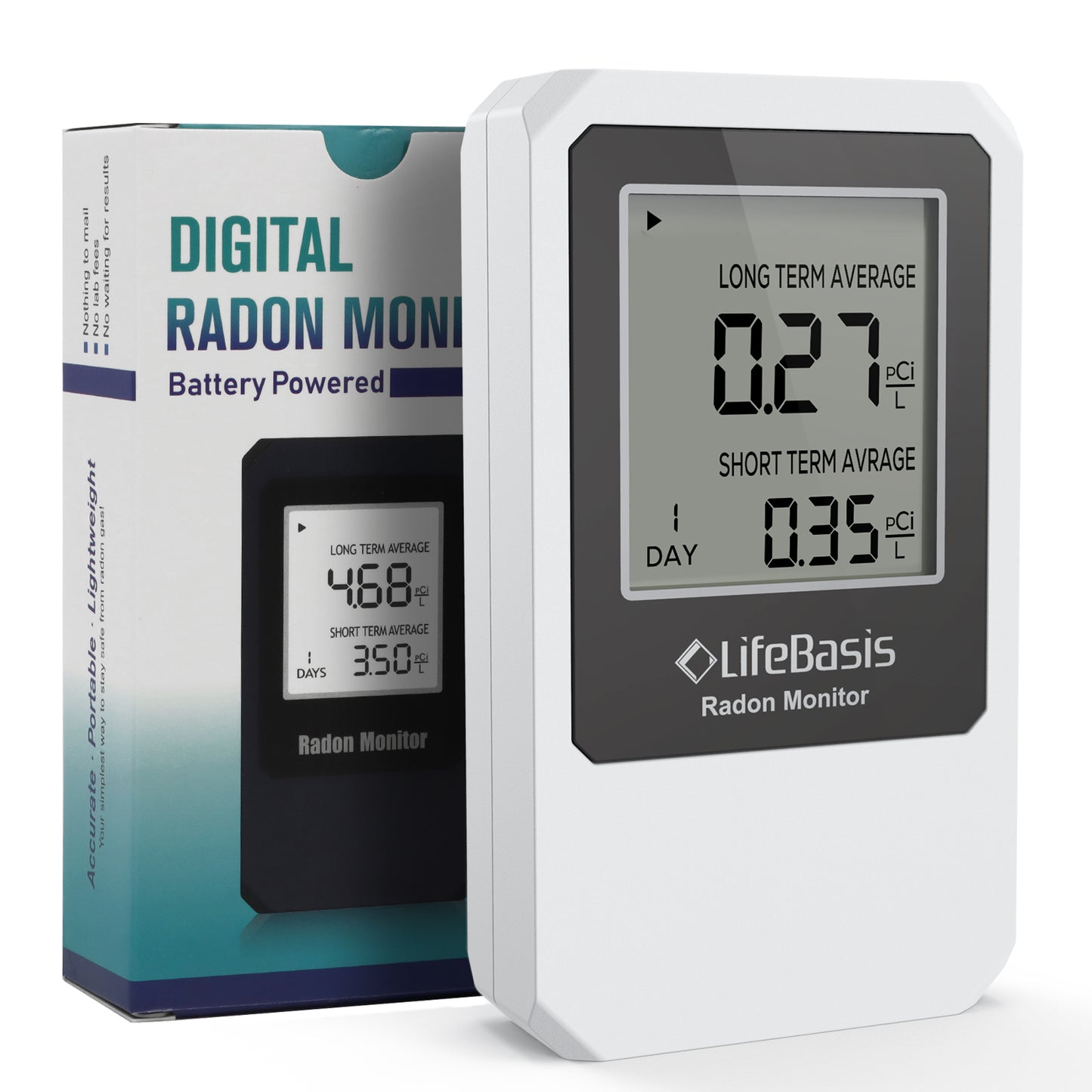 Easy to use and read
This radon detector is really simple to start using. It has 10 key features to get you started instruction the size and weight of it is similar to a deck of cards. It does require three AAA batteries that are not included. The screen is easy to read with Large letters and numbers. It offers both long-term average reading and short-term average reading. There are two recessed buttons on the back. One is to change the mode. The other one is to check reset.
Simple and important
There are a lot of features to read up on and it is an amazing little device. It was easy to set up - simply plug in and go! Accurate readings! My daughter learned about radon being odorless and tasteless and we have lots of houses going up around us so we wanted to be safe with the soil being dug up! Just another thing to make sure of!! Thanks for making it so easy!
Works great radon detector easy to use
Radon is a colorless gas that comes from the earth into the basements and crawl spaces of our homes. It is the number 2 cause of lung cancer in the US.
I thought this would be a very tech-heavy gadget but it is really not, you put the batteries in and set it in the basement or crawl space and it collects a daily reading and an average reading over a weeks time on the back it has a reset button for you to use if you change the location and a button to change mode. It takes 3AAA batteries, that come included and I guess they do last for long time cause they still working fine.
As long as your reading is 4 or below your home is safe if it is above 5 then it is time to do something about it and contact a specialist to get some air circulation going in your space to rid it of the radon gas.
The unit is simple to use and batteries last up to a year in the unit. The best part is no lab fees and no waiting , just a daily measurment and then weekly and long term measurment and then best taken in the lowest level of your home .
Get one, put it in your basement or crawl space and see what it tells you. If you need mitigation, at least you know this. The longer you wait, the worse things can get. Built with a solid black plastic and an easy to read screen, the battery will last quite a while. Treat this like a smoke or CO2 sensor-as a necessity for your family and your peace of mind.
Radon detector.
Product was well package with good easy to understand directions. Never liked the mail in tests but liked that this product can give constant state monitoring. Loved the product and am happy.