Regular price
Sale price
$36.99 USD
Unit price
per
Sale
Sold out
LifeBasis ultrasonic teeth cleaner with LED light and 4 adjustable modes with memory function,allows you to remove Teeth Stain, tarter, Plaque, Calculus without damaging the gums. Equipped with dental mirror and mouth opener, bring you a clearer sight. 40KHz vibration frequency and waterproof performance allow you to clean your teeth at home easily.
LifeBasis Ultrasonic Teeth Cleaner Highlights
1. Real Sonic Technology.
Ultrasonic teeth cleaner  using real sonic high-frequency vibration technology. 40KHz vibration frequency, 2 million times per minute.
2. Easy-To-Use. 
First with this dental tools Go back and forth in a tiny area for a few passes and wait until you get used to the feeling. Then slowly increase the intensity to find the level that works best for you.
3. 4 Adjustable Modes & 3 Replacement Head.
With soft, normal , middle and strong modes to meet the needs of different teeth cleaning.  4 different shapes of 304 stainless steel cleaning heads for different parts of the teeth. 
Soft Mode: for sensitive teeth for first-time use
Normal Mode: for regular cleaning 
Middle Mode: for calculus and stains
Strong Mode: deep cleaning, suitable for stubborn stains and calculus
4. IPX6 Waterproof & LED. 
waterproof remove teeth stain tarter plaque calculus can clean the whole body, and the LED light will automatically turn on when the teeth cleaner tool kit is working, illuminating the blind area of vision.
5. Safe & Rechargeable.
The dental cleaner only work when it touch teeth, when contacting with gums/air, it will stop working. 2-4 hours charging time allows you to use the cleaner more than 20 times. Automatic power off 10 minutes intelligent safety protection to prevent the body from overheating.
LifeBasis Ultrasonic Teeth Cleaner Specification
Charging Current:  ≤1 A
Charing Time : 2~3.5h
Operate Frequency : 30-40KHz
Powr: <3W
Weight: 137g
Package Weight: 337g
Size: 27*27*190mm (not including replacement head length)
Ultrasonic Teeth Cleaner User Manual
Packing List
1 X Host Machine
1 x Dental Mirror
1 x Mouth Opener 
4 x Replacement Head
1 x Charging Cable
1 x Protection Cover
1 x Replacement Head Disassembly Wrench 
1 x User Instruction
Share
View full details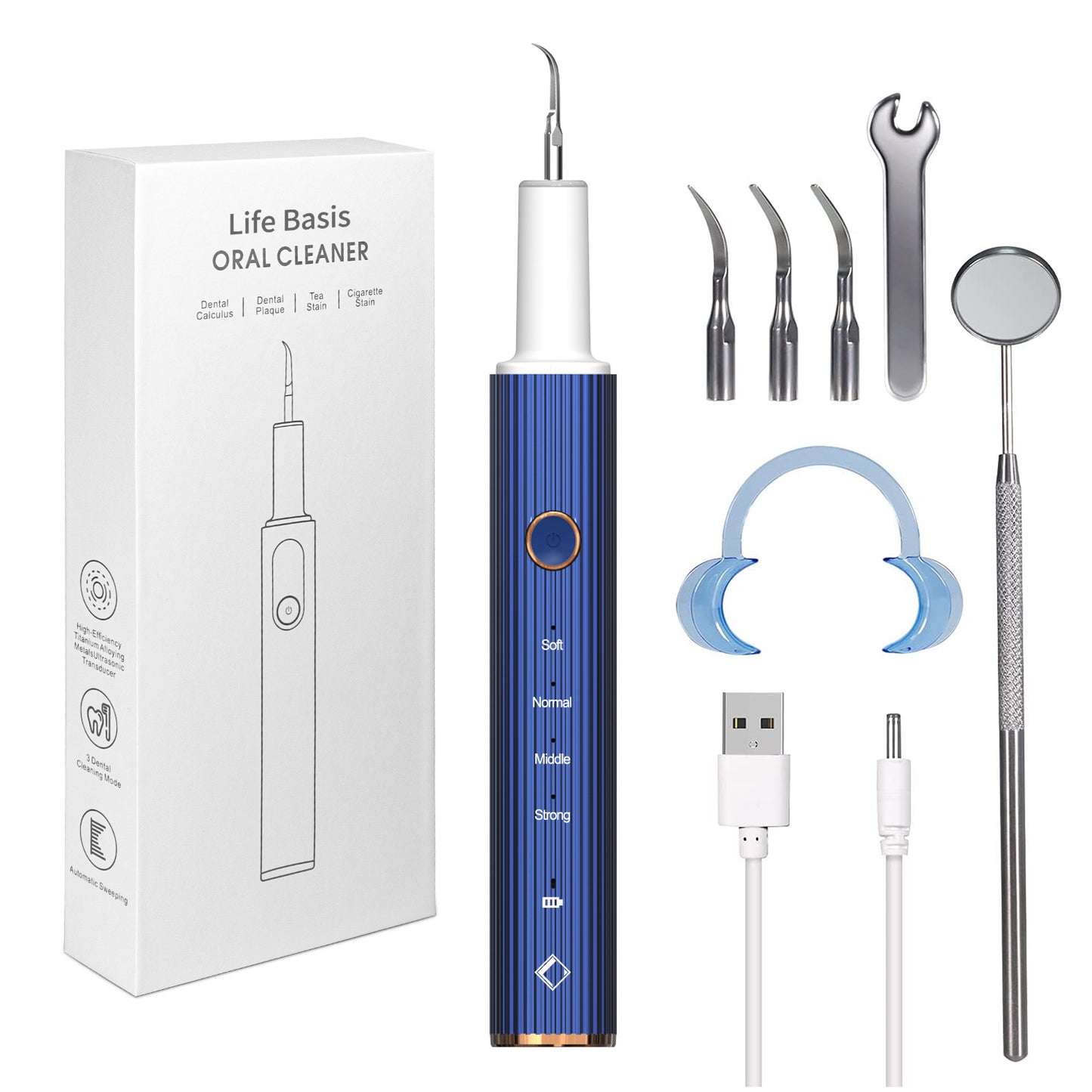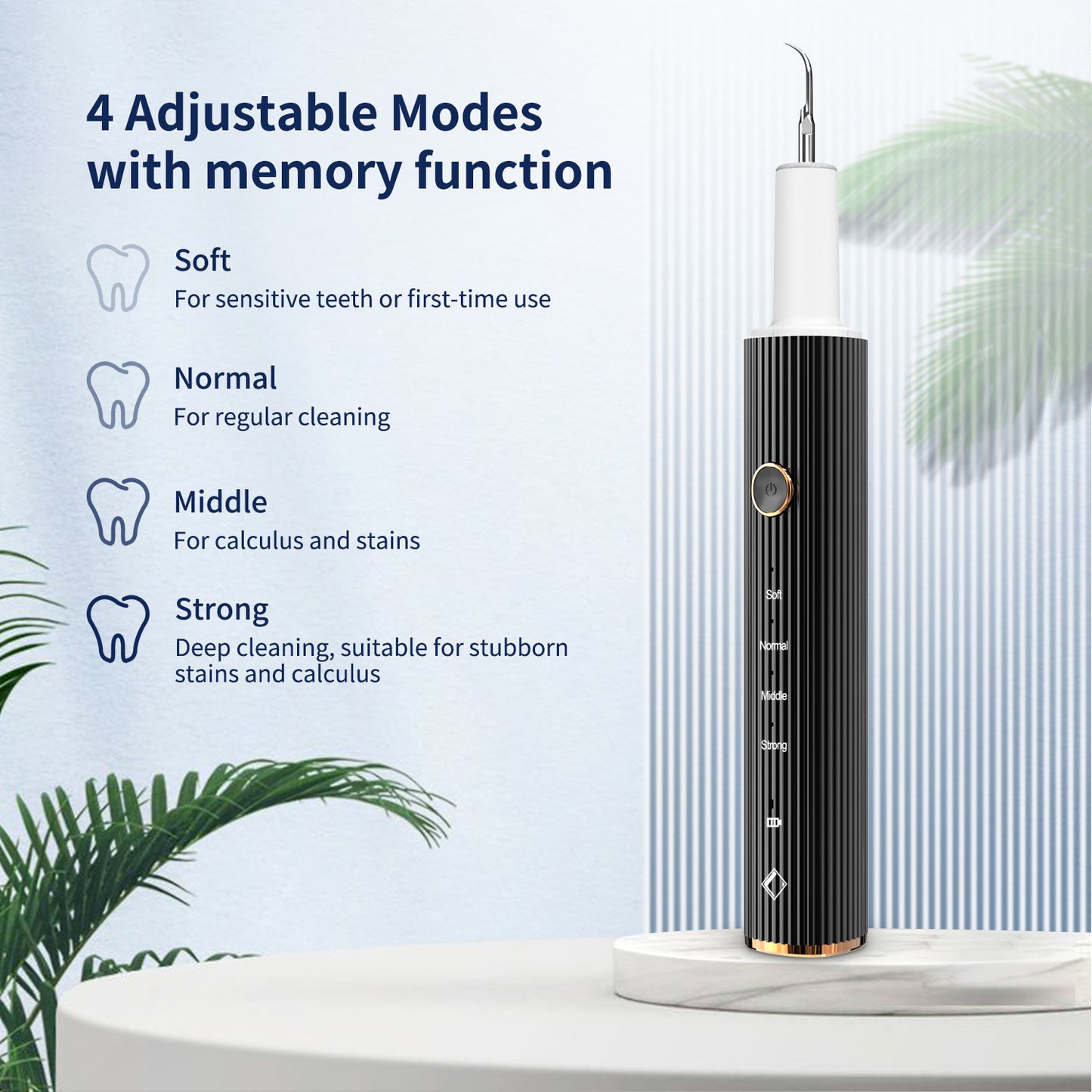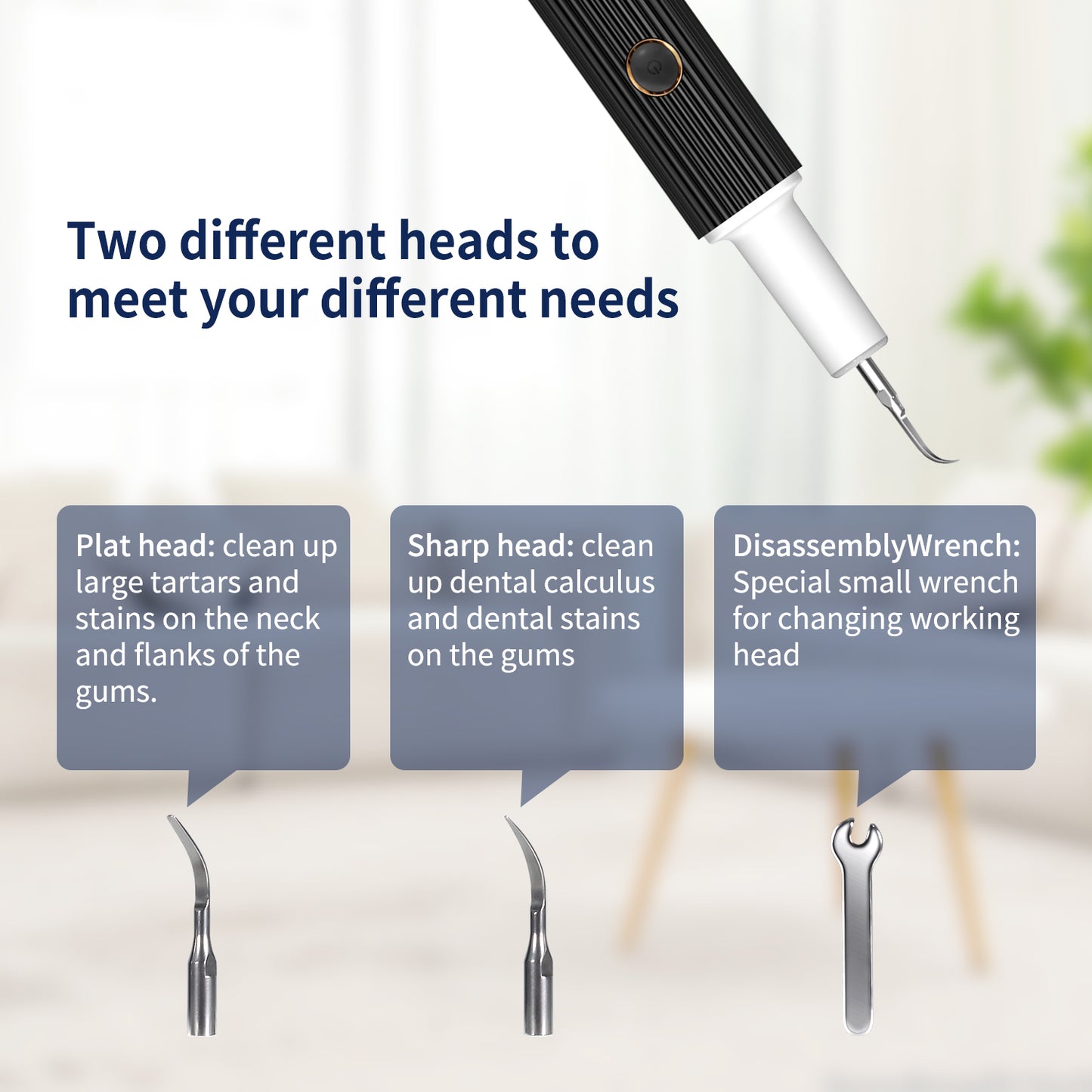 A cheap and painless way to see the dentist less often
I've been afraid to use an ultrasonic plaque descaling tool on myself. My teeth aren't that bad but it's been a year since my last cleaning. I brush, floss, and water floss. But it's not enough to stop tartar completely.
The main act of a dental cleaning is the ultrasonic descaling and this device is what gets it done. It's much cheaper than paying full price for a cleaning every 3 to 6 months. I still go to a dentist for a cleaning, but only once a year now.
Simple with visible results
My bottom incisors are slightly crooked and easily stain from coffee and just everyday foods and liquids. I have spent $$ on whiteners and stain removers to no avail. I have used this product 3 times over a week period and the stains are gone. Cautious to use sparely as to not damage enamel. No longer self conscious of my stained teeth, 2 thumbs up
Excellent! Gets plaque off from in-between teeth
It gets the plaque off that gets between your teeth just like the dentist. I used a low setting. While it is designed to not hurt your gums or soft tissue, it detects a hard surface like your teeth. The vibration is so fast, you don't feel it, but you hear it. It's excellent. Powerful.
Amazing!!
This thing is so wonderful. Truly! You don't need to go waste all of your money on a cleaning at the dentist when you can do it yourself with this. I removed calculus from the bottom of my teeth, and I got the tartar and plaque from them too without any issues at all. I highly recommend this to everyone.